Best water dispensers in Singapore
---
It's common knowledge that we're supposed to down at least 8 cups of water a day, but with everyone at home drinking up, even the best kettles can struggle to keep up. To help you stay hydrated in our humid Singapore weather, a water dispenser is your best bet for clean and fresh water on demand.
For convenience, you might pick a variable temperature dispenser for hot or cold water at a push of a button. There are also options with filtration and disinfection features and even ones that provide alkaline water for added health benefits. To fit your specific needs, here's a rundown on the 8 best water dispensers in Singapore:
Check out our other articles on water and hydration:
---
1. Xiaomi VIOMI hot water dispenser – slim and beginner-friendly
---

Image credit: @ultratrade.ru
During our busiest – or laziest – days cooped up in our rooms, the 20-odd steps to our kitchen might as well be a cross-country hike. To ensure you stay well-hydrated throughout the day, the slim Xiaomi Viomi 2L water dispenser fits neatly on a side table or shelf – only taking up about the same size as a small coffee machine.
It heats water to 4 selectable temperatures during dispensing, so you can have hot water to optimally brew various teas, infusions and even baby formula. For safety, it automatically locks after 30 seconds of inactivity to prevent accidental scalding, and lets you opt to automatically dispense a preset 250ML portion.
For shared use in a common area, it also comes in a larger 4L version ($135).
Capacity: 2L
Temperature options: 50ºC, 80ºC, 90ºC, 98ºC
Price: $59.90
Get the Xiaomi Viomi
---
2. Toyomi FB6108 boiling water dispenser – no wasted power
---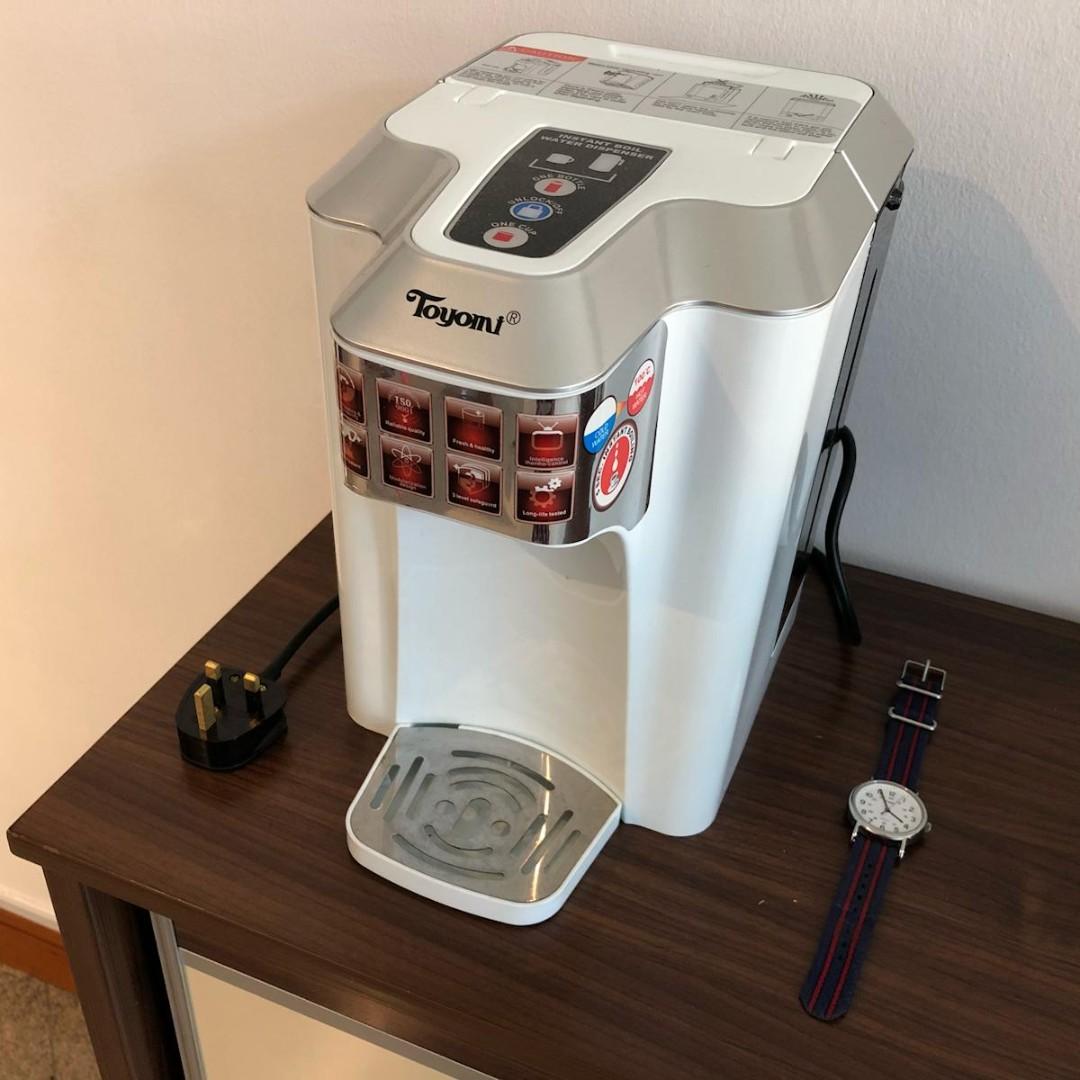 Image credit: Carousell
OG Singaporeans who grew up on instant 3-in-1 coffee, tea and Milo will instantly recognise the airpot – a large, hefty appliance whose sole purpose is to dispense boiling-hot water throughout the day. The Toyomi FB6108 does just that, but without the energy drain traditionally associated with these gadgets. 
Select either 1 bottle or 1 cup, and the dispenser rapidly boils the specified amount within 5 seconds, before powering back down to conserve power. In spite of its heft, it sports a detachable water container for convenient cleaning and refills.
Capacity: 3L
Temperature options: 100ºC
Price: $98
Get the Toyomi FB6109 Instant Water Dispenser
---
3. Bluepro instant heating water dispenser – antibacterial cleaning
---

Image credit: Lazada
In addition to offering a whopping 6 different temperatures to perfectly brew just about any beverage, the Bluepro water dispenser is specifically designed to ensure cleanliness. As it dispenses water, it diverts scalding hot steam back up the nozzle to decontaminate its insides. The nozzle is also optimised to prevent dangerous drips and splashes.
Coupled with a quick 3-second heating cycle and nifty 150ML and 300ML preset volumes, the minimalist water dispenser is a handy tool to have around the house. Compact and silent and with a safety lock, it's suitable for use even in a child's room. 
Capacity: 2L
Temperature options: 25ºC, 45ºC, 50ºC, 55ºC, 85ºC, 99ºC
Price: $89
Get the Bluepro water dispenser
---
4. Novita NP 6610 HydroPlus – with alkaline water filter
---

Image credit: Novita
There's still plenty of research needed before we have conclusive results, but there's some evidence that alkaline water can have anti-aging, immune system-boosting and detoxifying benefits. The Novita NP 6610 free-standing dispenser uses a unique HydroPlus filter to produce water at an alkaline level of pH 9.8, more than regular water's average pH of 7.8.
The dispenser puts tap water through 6 steps of filtration including ceramic, silver activated carbon and ion-exchange resin stages. The resulting alkaline water boasts a higher hydrogen content as compared to oxygen, meaning it also has improved antioxidant properties.
Capacity: 16L
Temperature options: None
Price: $299
Get the Novita NP 6610 Hydroplus Water Filter
---
5. 3M HCD-2 hot & cold water dispenser – UV lamp for disinfection
---

Image credit: Qoo10
Known for their Post-Its and double-sided tape, 3M is also responsible for the HCD-2 Hot, Cold And Room Temperature Filtered Water Dispenser. A tried and trusted all-rounded option, it uses a combination of UV light and a proprietary filtration system to eliminate germs, chlorine, lead, and protozoan cysts that can cause gastrointestinal diseases like diarrhea.
Capacity: Unlimited – connects to water source
Temperature options: Hot and cold
Price: $1,588
Get the 3M HCD-2 Hot, Cold And Room Temperature Filtered Water Dispenser
---
6. Tomal Freshdew tankless water dispenser – compact, extra slim design
---

The Tomal Freshdew's minimalist design and touchscreen controls will fit a wide variety of kitchen layouts and themes
With our microwave oven, coffee machine and a dozen other appliances, limited kitchen counter space for additional gadgets comes at a premium. Measuring just 8CM wide, the Tomal Freshdew water dispenser can even be mounted to a wall for even greater space savings. 
Being tankless, the Tomal Freshdew avoids a buildup of germs and reduces the need for maintenance. The water dispenser comes with 2 filters that use sediment and activated carbon, but it can also be upgraded to up to 4 filters including one for alkaline water.
Capacity: Unlimited – connects to water source
Temperature options: Hot and cold
Price: $1,999
Get the Tomal Freshdew water dispenser
---
7. Cuckoo Fusion Top water dispenser – with hot & cold taps
---

Image credit: waterdispenser.sg
With the tech in water dispensers rapidly advancing, they've amassed a whole host of functions, along with the buttons and switches to go with them. But if you're one for simplicity, the Cuckoo Fusion Top allows you to easily dispense filtered water at the right temperature with 2 simple, separate taps for hot and cold water.
Ideal for use in a kitchen, its open design accommodates larger vessels like pots and bowls, and its 6-stage filtration system uses 4 different filters to rid drinking water from harmful chemicals and microbes.
Capacity: Unlimited – connects to water source
Temperature options: Hot and cold
Price: $1,699
Get the Cuckoo Fusion Top CP-FN601HW water dispenser
---
8. Philips ADD6910 RO water dispenser – with filter change alerts
---

Image credit: chonoida.vn
90s kids might remember visiting the NEWater Visitor Centre on an excursion, where you heard about the painstaking process of obtaining potable water from wastewater. In many ways, the Philips ADD6910 RO water dispenser is a miniature version of that, with its 5-stage reverse osmosis filter and UV light disinfection ensuring the water you get is clean and germ-free.
Using high pressure to force water through a multilayered filter, the dispenser removes bacteria, viruses, heavy metals, along with pesticides and chlorine. Each filter lasts 6 months, but there's no need to keep track as Philips' CleanSmart function will prompt you with a warning light when it's time for a change.
Capacity: Unlimited – connects to water source
Temperature options: 45ºC, 85ºC, 95ºC
Price: $699
Get the Philips ADD6910 RO water dispenser
---
Bonus: IKEA KALASFINT glass water dispenser – budget option
---

Image credit: IKEA
When it comes to water dispensers, water filters and temperature controls are nifty features to have on hand. But if you've already got a dedicated water purifier handy, the IKEA KALASFINT is a budget, no-frills alternative to keep everyone at home hydrated.
Made from glass, the KALASFINT lets you keep an eye on water levels for everyday use in the kitchen, but is also food-safe for infused water and cocktails. This makes it an ideal choice if you're looking for a dispenser that does double-duty for parties and get-togethers. 3L is plenty for small parties, but for a larger option, IKEA also offers the 5L VARDAGEN ($29.90).
Capacity: 3L
Price: $15.90
Get the IKEA KALASFINT 
---
Best water dispensers in Singapore
---
For a tool that everyone at home uses so often, picking the right water dispenser with the perfect features is essential for a long-lasting, satisfying purchase. With a whole range of filtration options for safety and peace of mind, along with convenient heating and cooling features, you'll definitely find the right water dispenser to suit your unique needs.
Check out our other articles on the best home appliances in Singapore:
---
Cover image credit: TheSmartLocal, Lazada
The products have been ranked in terms of features and price from sources and reviews online.