A bird's eye view of the little red dot
If you grew up sometime in the 20th century, you may be disappointed that the promise of flying cars in the 21st century never came into fruition, but don't sweat it. 16 years in, we can't put ourselves up in the air at will yet, but it has become very simple to get your personal eye in the sky. While drones might have earned for themselves a bad rep from being used as tools of war, their little cousins are making their way into consumer markets, changing our impressions one beautiful photo at a time.

It even transforms! Source
New drones are constantly being produced, like the DJI Inspire One (above) which helps professional photographers and enthusiasts alike unlock a whole new dimension to their art. While not all of us can bear to fork out the moolah for a pretty baby helicopter, we can admire the work of others who do.
Many of the images in this article are from these two drone photographers on instagram: @sgfromabove and @idroneman. Check out their feeds and follow them for more beautiful aerial images of Singapore!
Here are 15 of the coolest images taken from a camera drone in Singapore.
1. Rochor Centre
Eye in the sky
Source
These iconic colorful old HDB blocks are an iconic landmark along Rochor Canal. Since they were repainted they have become a classic backdrop for beautiful photoshoots. However, despite their popularity among Instagramers, few drone photographers would even think of shooting here because the cluttered surroundings of these blocks means it is difficult to get a clean shot with a clear subject.
Well, I'm glad one guy decided to give it a try, because it looks absolutely gorgeous.
Feet on the ground
Address: 1 Rochor Road, Singapore 180001
Update on 16 February 2017: Rochor Centre will be demolised w.e.f end 2016. 
2. Singapore Indoor Stadium
Eye in the sky
Hidden in the shadows of the National Stadium, the Singapore Indoor Stadium doesn't get enough credit for the uniqueness of its architecture. Designed by renowned Japanese architect Kenzo Tange, over the years it has hosted numerous major sporting events and concerts such as Taylor Swift's 1989 world tour.
Feet on the ground
Address: 2 Stadium Walk, Singapore 397691
3. Macritchie Reservoir
Eye in the sky
This photo looks like the album cover of an indie band. All those wanting to go hiking around Macritchie Reservoir would come across this quirky wooden bridge on the way to the forest. Despite having crossed it many times, I've always thought this zig zag bridge was very impractical. Who knew it looks so beautiful from up top.
Feet on the ground
Address: Reservoir Road, Singapore
4. Nanyang Polytechnic Main Building
Eye in the sky
Nope, it's not a horseshoe magnet.
Feet on the ground
Address: 180 Ang Mo Kio Ave 8, Singapore 569830
5. Singapore Science Centre
Eye in the sky
This building looks like it could've been inhabited by Matt Damon on Mars, but nope, it's right here on our sunny little red dot. It's quite fitting that this unique architecture here belongs to the Singapore Science Centre. If it's space-age design continues to amaze us even today, it must have blown everybody's minds when it opened in 1977.
Feet on the ground

Source
Address: 15 Science Centre Rd, Singapore 609081
6. Jurong East Swimming Complex
Eye in the sky

Doesn't it look like a giant nose? Source
The true blue westies who grew up in the far west would have fond memories of this place. This is easily Singapore's largest public swimming pool, complete with a humongous wave pool, and surrounded by a super long lazy river. Be jealous, easties.
Feet on the ground
Address: 21 Jurong East Street 31, Singapore 609517
7. NTU Pioneer and Crescent Halls
Eye in the sky
These blocks look so cartoonish from the air it's hard to believe they are actual buildings. The basketball court and soccer field may be a big hint, but only people who have been to Pulau NTU recently will know that these are their new Pioneer and Crescent Halls.
These iconic Y-shaped blocks are a model for sustainability, making use of solar power and recycling bio-waste, and will be the test-bed for many of NTU's green innovations.
Feet on the ground
Address: 156 Nanyang Crescent, Singapore 637125
8. Esplanade Outdoor Theatre
Eye in the sky
This one gave me vertigo just looking at it. The arch at the bottom almost looks like an optical illusion, and it took me awhile to realize that this spearlike thing was actually the Esplanade Outdoor Theatre.
The spear tip is the actual outdoor theatre, but of all the times I've been there I never noticed it had such a huge a spike. This large theatre often holds free performances, so it's great that they can seat 450 people, and up to 600 standing.
Feet on the ground
Address: 1 Esplanade Dr, Singapore 038981
9. Bishan bus interchange
Eye in the sky
Sometimes it's the ones you least expect that give you the biggest surprise. You wouldn't think twice about the old run-down Bishan bus interchange, but from the air, it looks like some vintage old radio, or a frog, with a square face.
Feet on the ground
Address: 514 Bishan Street 13, Singapore 570514
10. Bukit Batok Driving Centre
Eye in the sky

Source
For some people out there, this place may hold some stressful memories. But from such a high altitude, it makes your troubles seem so far away. Also, if you keep your drone up there the whole day you can laugh at all the kayu drivers.
Feet on the ground
Address: 815 Bukit Batok West Ave 5, Singapore 659085
11. Singapore Omni-Theatre
Eye in the sky
I would never have guess that this was a building in Singapore, I even had to Google it to confirm. This strangely-shaped building is indeed the Singapore Omni-Theatre. Built in 1977, this was probably Singapore's first IMAX theatre. It also houses an observatory, with free stargazing sessions every Friday night.
Feet on the ground

Source
Address: 21 Jurong Town Hall Road, Singapore 609433
And finally, for the Geeks out there…
12. Iron Man's Ark Reactor
Eye in the sky

Source
This neon colored doughnut looks just like the brightly lit device at the centre of Tony Stark's chest. Of course, the cars and yellow boxes are a dead give away. There is only one roundabout in Singapore this big that's lit up at night like this: the Fountain of Wealth at Suntec City.
Feet on the ground

Source
Address: Suntec City, 3 Temasek Boulevard, Singapore 0389833
13. Havok was here
Eye in the sky

Source

Source
For those who don't know Havok is the guy in X-Men: First Class who absorbs cosmic radiation and shoots them out as energy discs. This looks like the aftermath of a few of those wild discs, but, surprise, they're not! This is actually a top view of the NTU School of Art, Design and Media building. The stunning curves on this building have nabbed it a couple of awards, and it's not hard to see why.
Feet on the ground

Source
Address: 50 Nanyang Ave, Singapore 639798
14. Target Practice for the Death Star
Eye in the sky

Source

Source
This giant cross in the middle of downtown Singapore is none other than the roof over Clarke Quay's nightlife district. Set among preserved old warehouses along Singapore river, this futuristic-looking roof to protects diners from the elements, on top of looking totally badass at night.
Feet on the ground

Source
Address: 3 River Valley Rd, Singapore 179024
15. Kyogre's tattoos
Eye in the sky

Source

Source
For the rare few who know absolutely zilch about Pokemon, Kyogre is a legendary pokemon that can manipulate the seas, with tattoos marking its two front flippers and forehead. If only the grass were blue, this picture would be perfect. Anyway, this is actually a roundabout in Nanyang Polytechnic.
Feet on the ground
Address: 180 Ang Mo Kio Ave 8, Singapore 569830
The era of flying eyes has arrived

Source
Singapore is a tiny little island, and maybe every place worth photographing has been photographed before. But now that camera drones are becoming increasingly popular, we can revisit old landmarks with a fresh perspective, and even find new ones that didn't use to look good at ground level.
As you head out to the nearest hobby store to get your very own drones, do check out the regulations when flying drones in Singapore. Happy flying!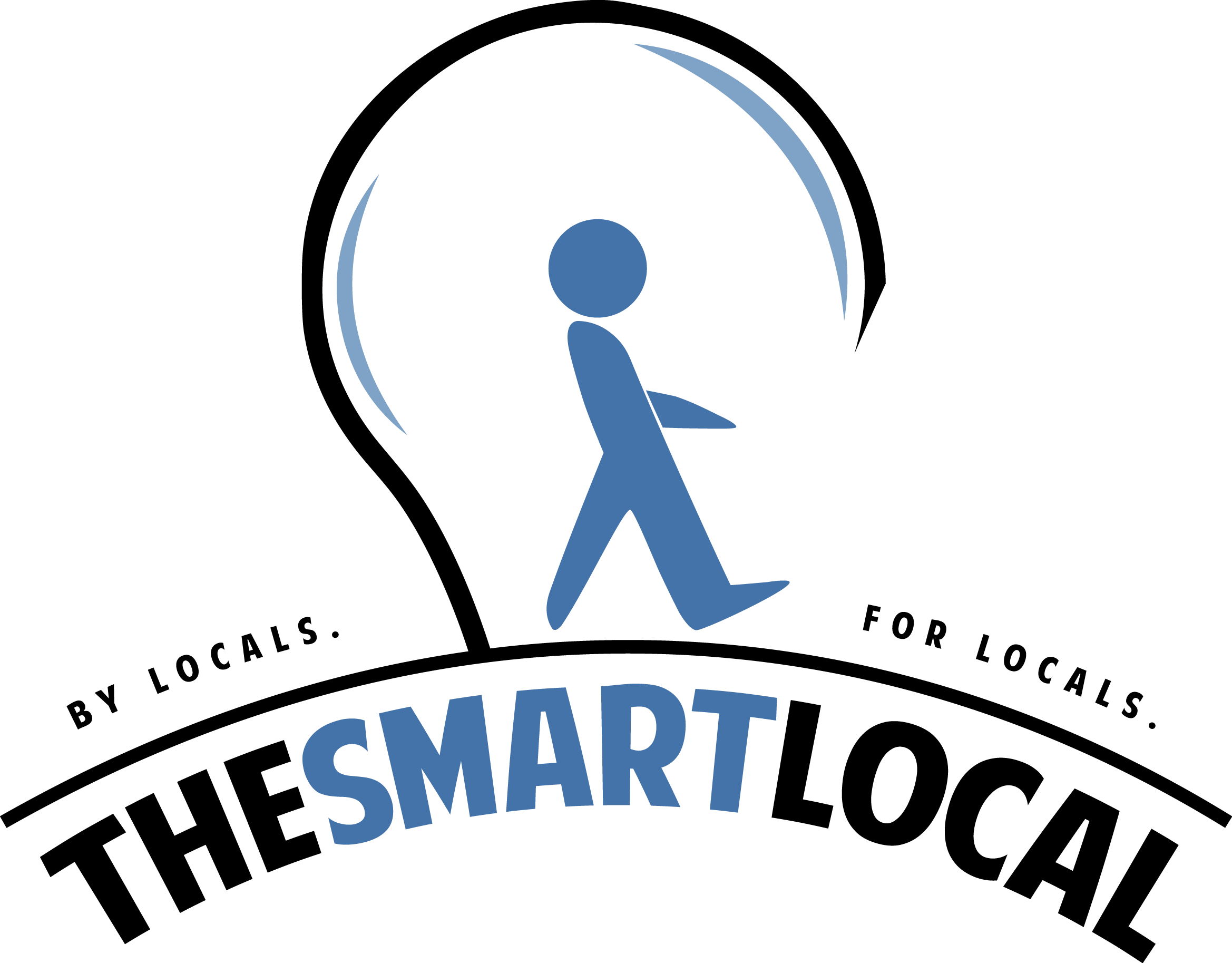 Drop us your email so you won't miss the latest news.