Note: This guide has not been updated as of 1 Jan 2015.
Tiong Bahru Cafe Guide
Click on the map to Zoom. Alternatively, you could view the full google map here.
If the images are not displaying below, view our Guide to Tiong Bahru and its full images as it was originally published on TheSmartLocal.com
Like a hipster blackhole, Tiong Bahru has sucked up all the trendy cafes and people in Singapore and kept them there. There's the legendary bookstores and cafes, old haunts, charming estate and fancy new tenants vying for their place in hipster heaven. I guess its this eclectic mix that makes Tiong Bahru so appealing to people.
Now even tourists come by the busloads to check this place out. I kid you not. But with all the choices available, where would you start?
It was for this reason we sought to piece together a Guide to Tiong Bahru food and cafe to make it easy for people to discover the best of Tiong Bahru. Grab your friends and explore, discover and satiate your growling stomach. Your Tiong Bahru quest begins now!
Along Kim Tian Road
Those coming here by MRT may want to start with Kim Tian Road, just a short walk from the MRT.
1. Coq & Balls
Coq & Balls specialises in imported beers and its more of a gastrobar than of a café, where you can chomp on tongue-in-cheek-named delights such as The Big Coq. Food-wise, it serves an diverse mix of cuisine ranging from appetizers such as yakitori, braised teriyaki chicken, to mains such as Pan Fried Black Pepper Beef Udon and Brazen Beef Steak.
Address: 6 Kim Tian Road Singapore 163006
Must-haves: Chuck Norris Specialty Cocktail ($21.00), The Big Coq ($16)
2. Potbellies (The previously mentioned Heart of House has closed, and has now reopened as Potbellies.)
Possessing an extensive selection of beers and ciders, Potbellies is mostly famed for their St. Louis Pork Ribs and Otah Pizza. As you step into Potbellies, prepare to be hit in the face with nostalgia as you enter a realm lightened with lights contained in milo tins, and old school classics like Celine Dion's My Heart Will Go On.
Address: 16 Kim Tian Rd, Singapore 169251
Must-haves: St. Louis Pork Ribs, Otah Pizza, Pork Knuckle
3. Big Mama Korean Restaurant
Started by a tutor who used to cook dishes for her lucky students, Big Mama Restaurant has established itself as one of the most raved about authentic Korean restaurants in Singapore.
Portions are huge and value-for-money, so coming in a group sure helps. Another plus point is how Big Mama is known to avoid using MSG in any of her dishes. Be sure to make reservations, as this place is awfully crowded during dinner.

Address: 2 Kim Tian Road, Singapore 169244
Must-haves: Jjambbong Jeongol ($25/40), Dakgalbi ($15)
Along Moh Guan Terrace
Walk down from Kim Tiam Road and you will find yourself either at the junction of Yong Saik Street and Moh Guan Terrace. This is the heart of Tiong Bahru.
4. Flock Café
If you're looking for a quieter and less populated place to laze your afternoons away in Tiong Bahru, this has got to be it. A short distance away from the popular 78 Yong Siak Street, Flock Café serves all-day breakfast, an assortment of bread, as well as Liberty coffee.
Its classy, magazine-laden interior and smooth music selection struck a chord with me.
Address: 78 Moh Guan Terrace #01-25 Tiong Bahru Estate Singapore 162078
Must-haves: Eggs Sally ($15.90), Pork Cheek Gruyere Sandwich ($19.90), Prawn Avocado and Lemon Mayo Sandwich ($13.90)
5. Bincho at Hua Bee
Bincho is located at Hua Bee, where director Eric Khoo filmed his movie Mee Pok Man. It is particularly popular for its yakitori, and offers two dining options available- a 9 course Sakura meal for $50, and a 11-course Bincho set for $80 consisting of yakitori delights like chicken wings and thighs as well as the usual Japanese dishes like Chawanmushi.
Be sure to make your way to the back door if you were to patronize this store. It's the only way in.
Address: 78 Moh Guan Terrace #01-19 Singapore 162078
Must-haves: Yakitori
6. Centre P's
Helmed by renowned Chef Patissier Steven Ong, Centre P's is home to the finest desserts and pastries. Macarons, Eclairs, Tartes, as well as cupcakes are often a common sight to behold in the Tiong Bahru store, and customized design on their delectable desserts is even offered as well.
Address: 78 Guan Chuan St, Singapore 160078
Must-haves: Grand Cru Royal's
7. PS Café Petit
PS café opened an outlet at Tiong Bahru and this time, in a bid to conceptualise a new takeaway concept, this new outlet has an extremely limited number of chairs and tables around. While takeaways are highly encouraged have no fear as quality is not being compromised upon.

Gooey Pizzas with perfect crusts are a must-try when you dine at PS Café Petit, known to be one of the "best and most underrated pizza joint ever". To top it off, you can complete your night with a fine selection of wine.
Address: 78 Guan Chuan Street #01-41 Singapore 160078
Must-haves: Bianca Funghi Pizza ($26.00), Four Cheese Porcini Pizza ($28.00)
Along Yong Siak Street
8. PoTeaTo
As its names suggests, nestled in the densely packed Yong Siak Street lies PoTeaTo, a lesser patronized café specializing in – you guessed it - Potato dishes such as Cream of Potato Soup, Potato Chips, even Salmon Potato Cakes.
Of all the cafes in Tiong Bahru, PoTeaTo would probably come across as the least packed, with only 2 groups of customer at any one time on average. So if you're looking to refrain from queueing for a seat, PoTeaTo is the answer. For those who aren't interested in Potato dishes, fear not because western courses, pancakes, and sandwiches are available as well.

Address: 78 Yong Siak Street #01-18, Singapore 163078
Must-haves: Sweet Potato Fries ($6.20), Potato Chips ($5.20)
9. 40 Hands
They say an average of 40 hands are required in the production of coffee, from plant to cup. 40 Hands have garnered a huge following for their cuppa coffee and there is no reason for you not to drop by and taste it for yourself.
The place is extremely crowded on weekends, and offers a range of meals and desserts. Kudos to this café because despite the overwhelming weekend crowd, the staff were extremely pleasant and patiently helped us shoot a few pictures despite their business.
Address: 78 Yong Siak Street #01-12, Singapore 163078
Must-haves: House blended coffee, Signature Kong Bak Pau and Tau Sar Pau, Truffle Fries.
10. Open Door Policy
I wouldn't regard Open Door's as a café as the food served here is of a much higher notch. Mains include its popular 48 hour Braised Beef Cheek with Mochi Potatoes, Carrot Puree and Pea Tendrils ($29.00), Braised Duck Ragout with Pappardelle Pasta and Smoked Tomato Sauce ($25.00). The steeper food price is justified by the higher quality of food found here.
That aside, I do love the ambience and heavy metal cutleries atop tables laden with wine glasses as it does successfully give off an extremely really chic vibe.

Address: 19 Yong Siak Street, Singapore 168650
Must-haves: 48 hour Braised Beef Cheek with Mochi Potatoes, Carrot Puree and Pea Tendrils ($29.00), Apple Crumble with Vanilla Custard ($15.00)
11. Social Haus
More known as the watering hole next to Open Door Policy, Social Haus is the perfect place to settle down after dinner with the girlfriend to guzzle down some booze. Dining menu is very limited though, so be sure to get some nibbles first before coming to drink.

Address: 11 Yong Siak Street, Singapore 168646
12. Ikyu

Pronounced as "E-Q", Ikyu is a Japanese Dining Restaurant that has situated itself in the hustle and bustle of café life along the streets of Tiong Bahru. While its grunge, dull-coloured interior sets it apart from the other cafes along TB and is distinct from many Japanese restaurants here, Ikyu is well known to provide quality Japanese food.

Address: 5 Yong Siak Street, Singapore 168643
Must-haves: Seven Course Omakase ($128), Shok Cheesecake ($8.50)
13. Plain Vanilla Bakery
Calling this one-of-a-kind bakery plain is such an understatement. While we have had many cupcake stores popping up the past two years, Plain Vanilla Bakery pretty much gives other competitors a run for their money due to its superior quality and extremely affordable pricing. Factor in the lesser-found open-space concept of the bakery, neat row of vintage bicycles and childhood swing to make for a picturesque shot ...
We have a clear winner.
Address: 1D Yong Siak Street, Singapore 168641
Must-haves: Dark Chocolate Ganache ($3.50), Red Velvet Cupcake ($3.50)
14. Cheng Delicacies Authentic Hainanese Curry Rice
Cheng Delicacies offer Authentic Hainanese food at an affordable price, and specialize in Curry Rice that is said to be unique and flavorful. Cheng's Delicacies was once featured in Channel U's food show.
Address: 27 Yong Siak Street, Singapore 168654
Must-haves: Curry Chicken Chop Rice ($5)
Along Seng Poh Road
To get to the other side of Tiong Bahru with Tiong Bahru Bakery, you have to walk about 10 minutes across Seng Poh Road. If you head downwards halfway along the road you'll reach Seng Poh Lane. And on the right will be the rest of the cafes.
15. Tiong Bahru Bar
Similar to Timbre, Tiong Bahru Bar houses local bands and offers you an extensive listing of wines to choose from.
It's huge and open, with lush chairs or sofas occupying most of its interior, yet not the least bit pretentious. An array of sides such as Beef Tenderloin Salpicado cubes ($18), Spanish Omelette ($10) and mains are on the menu.

Address: 3 Seng Poh Road #01-01 Singapore 168891
16. Dough and Grains
I have never been so fascinated by bread as I was when I read up about Dough and Grains. This out-of-this-world bread shop incorporates Traditional Chinese Medicine into their breads! Fascinating or what!? As if bread is not healthy enough, now we can eat bread with even more health benefits to the body!
In addition, you can cast your fears aside because the taste of bread sold here is a far cry away from those disgusting TCM medicine you used to take. I am extremely in love with the shop's ingenious concept!

Address: 71 Seng Poh Road, Singapore 160071
Must-haves: Black Pearl ($1.90), Jade Lychee ($1.90)
17. Old Tiong Bahru Bak Kut Teh
The Tiong Bahru name is definitely synonymous with Bak Kut Teh, because this is where you can find one of Singapore's best Bak Kut Teh store! It is famous for being less peppery than the usual Bak Kut Teh, which allows for the sweetness of the Bak Kut to seep through. With its filled-to-the-brim crowd during lunch hour, you will want to get there before the queues start snaking in.
Address: Blk 58 Seng Poh Road, #01-31 Singapore 160058
Along Seng Poh Lane
18. De Classic Golden Spoon
Arguably the most famous Zichar stall in Tiong Bahru, propelled to stardom due to their thick and fresh Crab Bee Hoon, De Classic Golden Spoon is place every zi char lover should try at least once in their lifetime.
Address: 62 Seng Poh Lane, Singapore 160062
Must-haves: Cod Fish, Cereal Chicken with Pumpkin, Crab Bee Hoon
Along Tiong Poh Road
19. Ting Heng Seafood
Another famous zi char place in Tiong Bahru, this time for late night dining as well as supper. Definitely old-school as you sit by the road in those less-than-fancy-but-very-Singaporean red plastic chair with your food perched atop wooden tables.
Ting Hen brings back the kampong spirit as friendly chatters and laughter fills the air right up till 4am.
Address: #01-03, 82 Tiong Poh Road, Singapore 160082
Must-haves: Golden Mushroom Beancurd
Source: Wen's Delight
20. Ah Chiang's Charcoal Porridge
I stumbled onto this hidden gem in Tiong Bahru after desserts at TBB on a Sunday night and boy was it one of the best finds ever. Though I've never tasted porridge quite like the one my granddad used to cook, Ah Chiang's Charcoal Porridge is quite the formidable opponent.
Ah Chiang's serves Cantonese-styled porridge with a consistent texture that is cooked over traditional old charcoal, hence explaining the slight smoky taste and smell that lingers. You could also order complementary ingredients such as you tiao and raw fish, a hot favourite. The newspaper and magazine clippings that plastered every wall were right. Ah Chiang's porridge is remarkably good.
Address: 65 Tiong Poh Road #01-38 Singapore 160065
Must-haves: Raw Fish, Mixed Pork Porridge ($3.50)
21. Drips Bakery & Cafe
In this country whereby even the smallest piece of land costs you a fortune, I love the extremely spacious interior and comfortable chairs Drips has to offer. That aside, Drips Bakery specializes in tarts, but also provides a commendable range of meals such as Louisiana Pork Ribs as well.
While their giant tarts feature a generous range of fruits to choose from, they didn't tickle my taste buds. The fruits on my Raspberry Strawberry Tart were more of sour than sweet, and for such a serving size I found tarts there to be pricey (around $8). Still, I know of people who are loyal fans so you might want to check it out for yourself.

Address: 82 Tiong Poh Road #01-05, Singapore 160082
Must-haves: Cinnamon Pear Tart ($7.50)
Along Eng Hoon Street
22. Tiong Bahru Bakery
Co-owned by French Baker, TV personality and author Gontran Cherrier, TBB is the premier destination for all overly enthusiastic artisanal bread fanatics. Labeled as the Paris of The Yeast, teenagers used to swarm TBB at Raffles City, queuing up to get their hands on either TBB's Croissant, delectable Kouign Amann, or Round Lemon Tart.
Although I'm totally not a bread fan, I thoroughly enjoyed the artisan breads and tarts at TBB. In addition, while I never fancy desserts that are anything but sweet, I never fail to make an exception for the Round Lemon Tart. It's definitely worthy of all the hype it's been receiving.
Address: 56 Eng Hoon Street, #01-70 Singapore 160056
Must-haves: Croissant ($3.20), Kouign Amann ($3.50), Round Lemon Tart ($6.00)
23. Two Faced Pizza
TFP's name originated from its operations- a yong tau food store in the day, and an undercover pizzeria by night. At first glance, one might think that he has walked into an old kopitiam, only to be greeted by western style food such as pasta and pizzas.
Dressing is casual here so don't be afraid to head out in a pair of slippers.
Address: 56 Eng Hoon Street #01-46 Singapore 160056
Must-haves: Smoked Duck Pizza ($18)
24. The Orange Thimble
I fancy Orange Thimble for the nostalgia its interior inevitably engulfs me in. There are 2 indoor and 1 outdoor seating areas for you to call your own, and most of the time the shop's quiet due to TBB being just next door. A variety of drinks, sandwiches, and pastries such as scones are sold.
A word of caution though, TOT has limited plug points and does not provide wifi.

Address: 56 Eng Hoon Street #01-68 Singapore 160056
25. Abe's Diner
A lesser-known eatery that sells European and Japanese cuisine, Abe's Diner is more than deserving of the title of a real hidden gem in Tiong Bahru. Nothing but positive reviews have been garnered even since its opening, and service has been said to be top-notch, perhaps attributed to the lack of crowd which mainly consists of Japanese pinning for home-cooked meals. A worthy mention is their Omakase course, which has been highly raved about.
Address: 42 Eng Hoon Street, Singapore 169785
Must-haves: Omakase ($38)
Along Tiong Bahru Road
Source: chocolatesuze.com
26. Tiong Bahru Galicier Pastry
Looking for some old-school dessert such as Nonya Kuehs? Tiong Bahru Galicier Pastry is one well-known confectionery that has been hand making their kuehs since… well since forever. Located amidst the old Tiong Bahru estates, it might be difficult to find at first, but the search is worth it. I heard that the owner (Jenny) is a nice lady too, so if you're up for it you could probably ask her for some food history lessons behind the kuehs!
Address: 55 Tiong Bahru Road, Singapore 160055
Must-haves: Ondeh Ondeh (60 cents), Kueh Lapis ($1.40), Butterfly ($1.50)
27. The Dispensary
Be fascinated by the rustic interior of The Dispensary that mirrors that of a Tradition Chinese Medicine hall. Chinese Medicine cabinets, once used to store antidotes, are displayed behind the main counter, and features such as calligraphy writings greet you at their doorstep.
The Dispensary is more known for their desserts, so do drop by if you happen to be around the vicinity!

Address: 69 Tiong Bahru Road Singapore 168723
Must-haves: Signature House Blend coffee, Chocolate Banana Cake
28. Blue Garden Korean BBQ Buffet Restaurant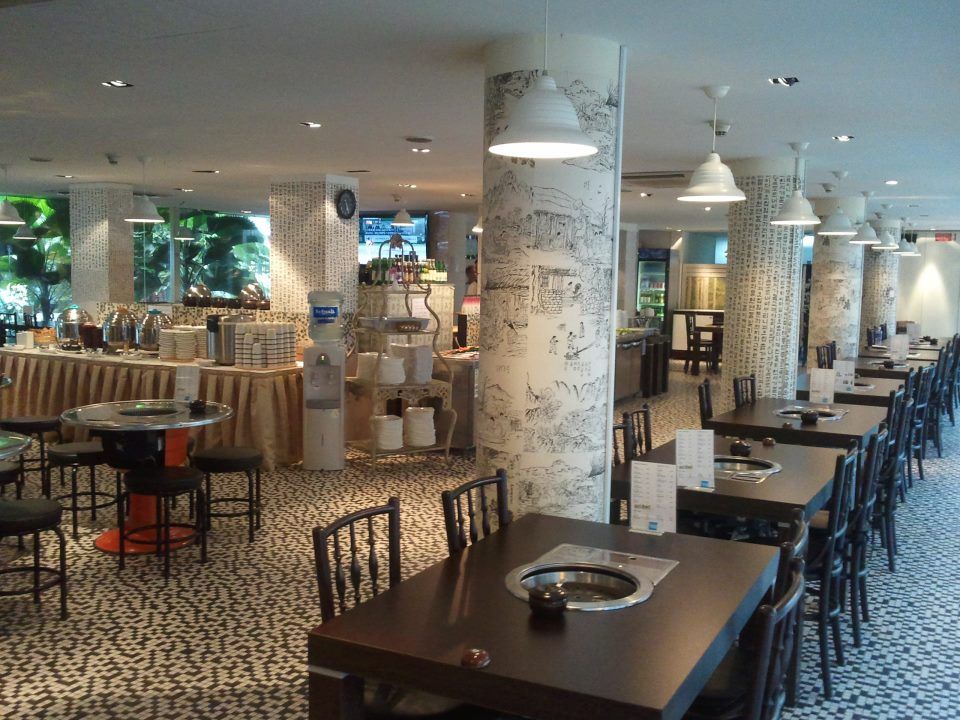 No frills and no queue. This is how customers would describe Blue Garden Korean BBQ whose buffet goes at around $30/pax on average. For the meat lovers, this place is for you because Blue Garden serves a wide range of meat and is known to be tender and well marinated! Ready-made Korean dishes such as Kimchi Fried Rice and Korean Ginseng Chicken Soup are also free flow to satiate your hunger.
Address: 50 Tiong Bahru Road #01-07 Link Hotel Singapore 168733
Must-haves: Beef Belly, Pork Belly, Beef Ribs.
29. Kisses Bakery
Not just another plain jane cupcake store. Despite being in the cupcake business for slightly more than half a year, Kisses Bakery has been warmly welcomed in the Tiong Bahru food enclave, to the extent that their cupcakes usually sell out every single day. It is also no surprise, considering their sweet yet simplistic shop interior that has proven to capture the attention of dessert-goers. Price is reasonable, will a cupcake costing $3.50, box of 6 costs $20, box of 12 costs $39.
My favourite is the Rose Caramel cupcake, a vanilla cupcakes infused with salted caramel, adorned with the sweet tang of rose and salted caramel buttercream frosting.
Address: 55 Tiong Bahru Rd, Singapore 160055
Must-haves: Asian Kaya Cupcake, Rose Caramel Cupcake.
Along Outram Road
30. Tiong Bahru Pau & Snack
As its name implies, Tiong Bahru Pau & Snack first originated from the hawker in Tiong Bahru Market before it caught the attention of Singaporeans like you and me and started branching out into different franchises all over the island. My parents love getting their hands on their famous pork buns whenever we are in the Tiong Bahru district even though their Big Pau lack the distinctive flavor of an egg.
Address: 237 Outram Road, Singapore 16904
Must-haves: Char Siew Pau ($0.80), Siew Mai ($0.80), Big Pau ($1.60)
Where do you go in Tiong Bahru?
So there you have it, our complete guide to food and cafes in Tiong Bahru!
While I did relish savouring foodfare at the new renaissance of cafes that have inexorably popped up at Tiong Bahru, I would suspend judgement on whether TB is worth all the hype it has gotten. I know of cafes that serve better quality food than those found at Tiong Bahru, with a more affordable price tag too.
In addition, while I don't mind crowds, I would prefer some peace and quiet any day. It gets really claustrophobic and crazy noisy at TB especially on weekends and aren't cafes supposed to be quiet relaxing places to chill?
What do you think, how do you feel about the delights at Tiong Bahru- yay or nay?
Do let us know!
---
I can read minds. You will also like:
Also watch us on TheSmartLocalTV!