Where to get Covid-19 tests in Thailand
---
After months of local coronavirus cases, Thailand has seen a jump in Covid-19 infections.
With no cure available, the safest way to deal with the virus is to act proactively. It's important to observe hygiene protocols like washing our hands, wearing masks and social distancing. Another measure could be to get tested for the virus.
For people who have been directly exposed could even be eligible for free Covid-19 test and treatment.
---
Hospitals that offer Covid-19 tests
---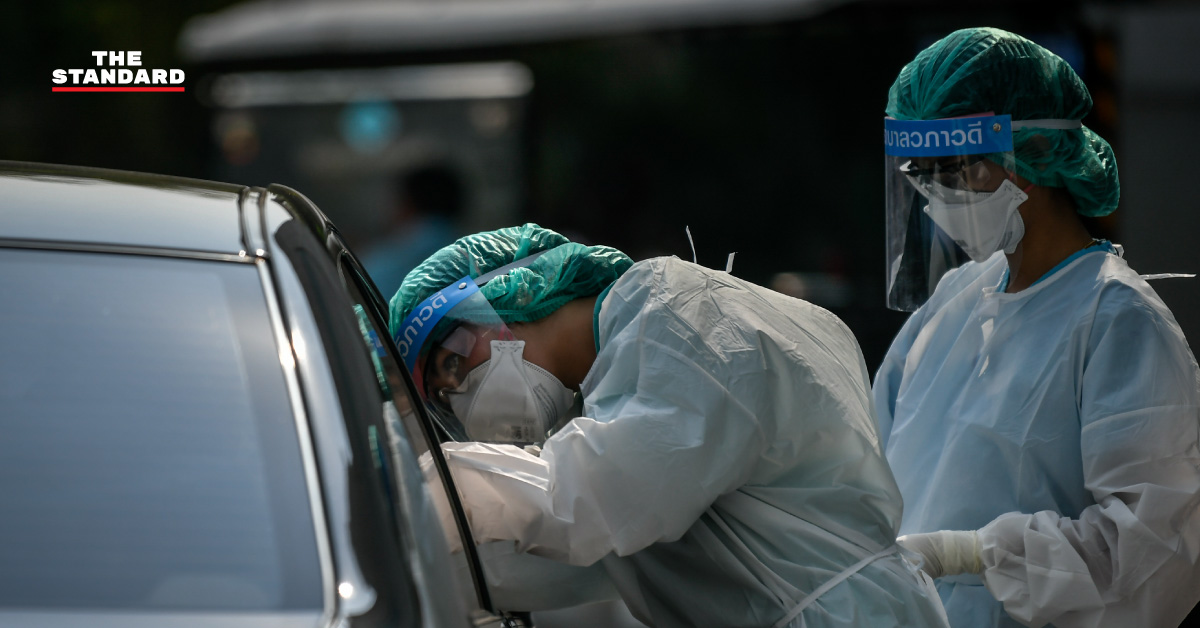 Covid-19 Drive-Thru Test
Image credit: The Standard
On 23rd December, MThai published a list of hospitals in Thailand that conduct Covid-19 screenings and their prices in Thai. We've translated the list below.
---
– BANGKOK –
---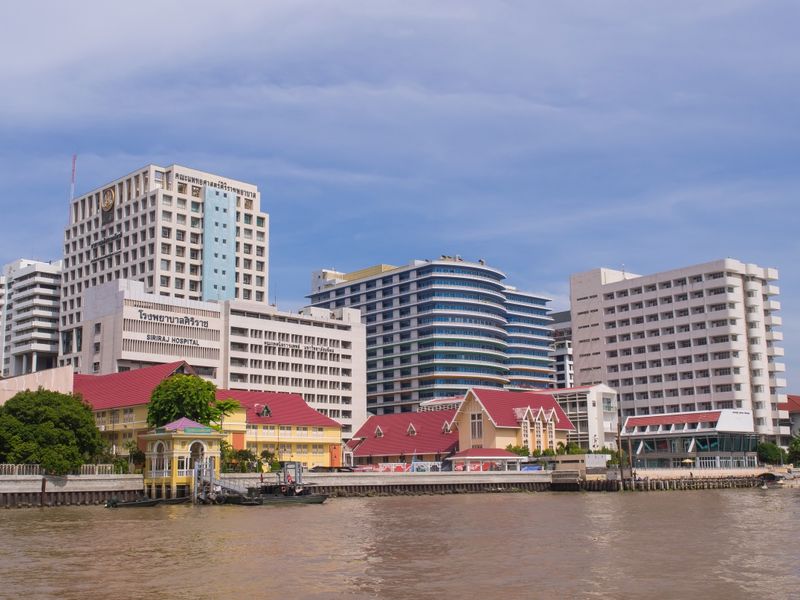 Image credit: Take Me Tour
Siriraj Hospital (Currently only testing high-risk groups)
Costs: ฿2,000-฿3,000
Address: 2 Thanon Wang Lang, Siri Rat, Bangkok Noi, Bangkok, Thailand 10700
Telephone: +66-2419-7000
Website | Google Maps
---
Chulalongkorn Hospital (Depending on your risk level)
Costs: ฿2,500-฿3,500
Address: 1873 Rama IV Rd, Pathum Wan, Pathum Wan District, Bangkok, Thailand 10330
Telephone: +66-256-4000
Nearest Train Station: MRT Silom
Website | Google Maps
---
Ramathibodi Hospital 
Costs: ฿2,500 (Thais), ฿3,500 (Non-Thais)
Address: 270 Rama 6 Rd, Thung Phaya Thai, Ratchathewi, Bangkok, Thailand 10400
Nearest Train Station: BTS Victory Monument
Telephone: +66-2201-1000
Website | Google Maps
---
Synphaet Ramindra Hospital (Drive Thru)
Costs: ฿3,000
Address: 52/1 KM.9 Ramintra Rd, Ram Inthra, Khan Na Yao, Bangkok, Thailand 10230
Telephone: +66-2836-9999
Website | Google Maps
---
Kasemrad Hospital Ramkhamhaeng
Costs:  ฿3,000 (For Thais)
Address: 99/9 Ramkhamhaeng Rd, Saphan Sung, Bangkok Thailand 10240
Telephone: +66-2399-0099
Website | Google Maps
---
Kasemrad Hospital – Prachachuen
Costs: ฿3,000
Address: Wong Sawang, Bang Sue, Bangkok, Thailand 10800
Telephone: +66-2910-1600-45
Nearest Train Station: MRT Wong Sawang
 Website | Google Maps
---
Kasemrad Hospital – Bangkae
Costs: ฿3,000 (Additional ฿500 service charge for doctor's certificate)
Address: 586, 588 Petchkasem Rd, Bang Khae Nuea, Bang Khae, Bangkok, Thailand 10160
Telephone: +66-2804-8959-70
Website | Google Maps
---
Ramkhamhaeng Hospital 
Costs: ฿3,000-฿5,400
Address: 436 Ramkhamhaeng Rd, Hua Mak, Bang Kapi District, Bangkok, Thailand 10240
Telephone: +66-2743-9999
Nearest Khlong Saen Saep Pier: Wat Klang Pier
Website | Google Maps
---
Tropical Medicine Hospital
Costs: ฿3,500
Address: 420/6 Ratchawithi Rd, Thung Phaya Thai, Ratchathewi, Bangkok, Thailand 10400
Nearest Train Station: BTS Victory Monument
Telephone: +66-2306-9199
Website | Google Maps
---
Phyathai 1 Hospital
Costs: ฿3,500
Address: 364/1 Thanon Si Ayutthaya, Thanon Phaya Thai, Ratchathewi, Bangkok, Thailand, 10400
Telephone: 1772
Website | Google Maps
---
Bang Pho General Hospital (LGBTQ- Friendly)
Costs: ฿3,500
Address: 95 Pracha Rat Sai 2 Rd, Bang Sue, Bangkok, Thailand 10800
Telephone: +66-2587-0144
Nearest Train Station: MRT Bang Pho
Website | Google Maps
---
Nakornthon Hospital
Costs: ฿3,740
Address: 1 Rama 2 Rd, Samae Dam, Bang Khun Thian, Bangkok, Thailand 10150
Telephone: +66-2450-9999
Website | Google Maps
---
Hospital Bangpakok 9 International Hospital
Costs: ฿3,800 (For Thais), ฿4,500 (For Non-Thais)
Address: 362 Rama 2 Rd, Samae Dam, Bang Khun Thian, Bangkok, Thailand 10150
Telephone: +66-210-99111
Website | Google Maps
---
Phyathai 3 Hospital
Costs: ฿4,000
Address: 943 Phahonyothin Rd, Khwaeng Samsen Nai, Khet Phaya Thai, Bangkok, Thailand10400
Telephone: +66-2467-1111
Website | Google Maps
---
Thonburi Bamrungmuang Hospital
Costs: Starts at ฿4,500
Address: 611 Bamrung Muang Rd, Khlong Maha Nak, Pom Prap Sattru Phai, Bangkok, Thailand 10100
Telephone: +66-2220-7999
Website | Google Maps
---
Paolo Memorial Hospital Phaholyothin
Costs: ฿5,500 baht (For Thais), ฿6,000-฿7,500 (For Non-Thais).
Address: 670 1 Phahonyothin Rd, Samsen Nai, Phaya Thai, Bangkok, Thailand  10400
Telephone: +66-2279-7000
Website | Google Maps
---
Vichaiyut Hospital
Costs: ฿5,500-฿6,000 (excluding doctor fees)
Address: 71/3 Soi Setsiri 1 Phaya Thai, Bangkok, Thailand 10400
Telephone: +66-2265-7777
Website | Google Maps
---
Sukhumvit Hospital (Drive Thru)
Costs: ฿5,500
Address: 1411 Sukhumvit Rd, Phra Khanong Nuea, Watthana, Bangkok, Thailand 10110
Telephone: +66-2391-0011
Website | Google Maps
---

Image credit: Positioning 
Vibhavadi Hospital
Costs: ฿5,990 ( Additional ฿500 service charge for doctor's certificate )
Address: 51, 3,Thanon Ngamwongwan, Lat Yao, Chatuchak, Bangkok Thailand 10900
Telephone: +66-2561-1111
Website | Google Maps
---
Phyathai 2 Hospital
Costs: ฿6,500 (including all service fees)
Address: 943 Phahonyothin Rd, Khwaeng Samsen Nai, Khet Phaya Thai, Bangkok, Thailand 10400
Telephone: +66-2271-6700
Website | Google Maps
---
Bangkok Hospital
Costs: ฿6,500
Address: 2 Soi Phetchaburi 47 Yaek 10, Bang Kapi, Huai Khwang, Bangkok, Thailand  10310
Nearest Khlong Saen Saep Pier: Thong Lo Boat Station
Telephone: +66-231-0300
Website | Google Maps
---
Rama 9 Hospital
Costs: ฿6,500
Address: 99 Rama IX Rd, Bang Kapi, Huai Khwang, Bangkok, Thailand 10310
Telephone: +66-2202-9999
Website | Google Maps
---
Samitivej Sukhumvit Hospital (Drive Thru)
Costs: ฿6,500
Address: 41, See Buranukij Bangkok, Thailand 10110
Telephone: +66-2022-2222
Website | Google Maps
---
Paolo Memorial Hospital Chokchai 4
Costs: ฿6,700
Address: 1 ChokChai 4 Rd, Lat Phrao, Bangkok, Thailand 10230
Telephone: +66-2514-4140
Website | Google Maps
---
Bangkok Christian Hospital

Costs: ฿6,800 ( Incases of existing illness), ฿5,800 (No illnesses and need medical certificate for going abroad)
Address: 124 Si Lom, Suriya Wong, Bang Rak, Bangkok, Thailand 10500
Telephone: +66-2625-9000
Website | Google Maps
---
Bumrungrad Hospital

Costs: ฿7,500
Address: 33 Soi Sukhumvit 3, Khlong Toei Nuea, Watthana, Bangkok, Thailand 10110
Telephone: +66-2066-8888
Website | Google Maps
---
Navamin Hospital
Costs: ฿7,500
Address: 33 Soi Sukhumvit 3, Khlong Toei Nuea, Watthana, Bangkok, Thailand 10110
Telephone: +66-2918-5080
Website | Google Maps
---
Siriraj Hospital Piyamaharajkarun
Costs: ฿7,000-฿8,000 (Excluding other service charges)
Address: 2 Thanon Wang Lang, Siri Rat, Bangkok Noi, Bangkok, Thailand 10700
Nearest Chao Phraya River Pier: Thonburi Railway Station Pier
Telephone: +66-2419-1000
Website | Google Maps
---
– NONTHABURI –
---
Bamrasnaradura Institute
Costs: ฿2,500-฿3,500
Address: Tiwanon Rd, Mueang Nonthaburi District, Nonthaburi, Thailand 11000
Nearest Train Station:  MRT Nonthaburi Civic Centre
Telephone: +66-2951-1170
Website | Google Maps
---
Kasemrad Hospital – Rattanathibet
Costs: ฿3,000
Address: 58 Moo 15 Rattanathibet Rd, Bang Rak Phatthana, Bang Bua Thong District,   Nonthaburi, Thailand 11110
Telephone: +66-2921-3400
Website | Google Maps
---
Kasemrad Hospital International – Rattanathibet
Costs: ฿3,000
Address: 60, Moo 6 Kanchanaphisek Rd, Sao Thong Hin, Bang Yai District, Nonthaburi Thailand 11140
Telephone: +66-2594-0020
Nearest Train Station: MRT Talad Bang Yai
Website | Google Maps
---
World Medical Hospital
Costs: ฿3,000
Address: Soi Chaengwattana – Pak Kret 19 Tambon Pak Kret, Pak Kret District, Nonthaburi, Thailand 11120
Telephone: +66-2836-9999
Website | Google Maps
---
– KHON KAEN –
---
Khon Kaen Ram Hospital (LGBTQ-Friendly)
Costs: ฿ 2,500
Address: 193 Sri Chant Rd, Nai Mueang, Mueang Khon Kaen District, Khon Kaen, Thailand 40000
Telephone:+66-4300-2002
Website | Google Maps 
---
– SARABURI –
---
Kasemrad Hospital Saraburi (Drive Thru)
Costs: ฿3,000
Address: 2/22 Mittraphap Rd, Pak Phriao, Muang Saraburi District, Saraburi, Thailand 18000
Telephone: +66-3631-5555
Website | Google Maps
---
– CHIANG MAI –
---
Chiangmai Ram Hospital
Costs: ฿3,900- ฿4,500
Address: 8 Bunrueang Rit Rd, Tambon Su Thep, Mueang Chiang Mai District, Chiang Mai, Thailand 50200
Telephone:+66-4528-0040
Website | Google Maps
---
Lanna Hospital Chiang Mai (LGBTQ Friendly)
Costs: ฿6,500
Address: 1 Sookasam Rd, Tambon Chang Phueak, Mueang Chiang Mai District, Chiang Mai, Thailand 50300
Telephone:+66-4528-0040
Website | Google Maps
---
– CHACHOENGSAO –
---
Kasemrad Hospital Chachoengsao
Costs: ฿3,000
Address: 29 Moo, 3 Suwinthawong Rd, Na Mueang, Mueang Chachoengsao District, Chachoengsao, Thailand 24000
Telephone: +66-3881-2702
Website | Google Maps
---
– PHAYAO RAM –
---
Phayao Ram Hospital
Costs: ฿3,500
Address: 660 Tha Wang Thong, Amphoe Muang Phayao District, Thailand  56000
Telephone:+66-5441-1111
Website | Google Maps 
---
– CHIANG RAI –
---
Kasemrad Hospital Sriburin
Costs: ฿3,700
Address: 111/5, Moo, 13, Asian Rd, 1 Mueang Chiang Rai District, Chiang Rai,Thailand 57000
Telephone: +66-5391-0999
Website | Google Maps
---
– SAMUT PRAKARN –
---
Chularat 3 International Hospital (Arabic speaking staff available)
Costs: ฿ 3,500 (Additional ฿500 service charge for a doctor's certificate)
Address: 88 8-9 Thepharak Rd, Bang Pla, Bang Phli District, Samut Prakan, Thailand 10540
Telephone: +66-8900-23677
Website | Google Maps
---

Image credit: Bangkok Post
Synphaet Theparak Hospital (Drive Thru)
Costs: ฿3,500
Address: 9/99 Thepharak Rd, Thepharak, Mueang Samut Prakan District, Samut Prakan, Thailand 10270
Telephone: +66-2761-5999
Website | Google Maps
---
Prince Suvarnabhumi Hospital (Drive Thru)
Costs: ฿5,500
Address: 35/2 Moo 12 Bang Na-Trat Frontage Rd, Bang Phli District, Samut Prakan, Thailand 10540
Telephone: +66-2080-5999
Website | Google Maps
---
– UBON RATCHATHANI –
---
Ubonrak Hospital Thonburi Ubon Ratchathani 
Costs: ฿5,500
Address: 46/4 Buraphanai Rd, Nai Mueang, Mueang Ubon Ratchathani District, Ubon Ratchathani, Thailand 34000
Telephone: +66-4542-9100
Website | Google Maps
---
Ratchawet Ubon Ratchathani Hospital
Costs: ฿5,900-฿6,900
Address: 999 Chayangkun Rd, Nai Mueang, Ubon Ratchathani, Thailand 34000
Telephone:+66-4528-0040
Website | Google Maps 
---
– SAMUT SAKORN –
---
Ekachai Hospital Samut Sakhon
Costs: ฿4,000
Address: 99/9,4 Ekachai Rd, Khok Kham, Mueang Samut Sakhon District, Samut Sakhon, Thailand 74000
Telephone: +66-3441-7999
Website | Google Maps
---
Mahachai Hospital 2
Costs: ฿4,500
Address: 301 1 Moo 6, Petchkasem Rd, Om Noi, Krathum Baen District, Samut Sakhon, 74130
Telephone: +66-2431-0054
Website | Google Maps
---
– CHANTABURI –
---
Sirivej Hospital Chanthaburi
Costs: ฿4,500
Address: 151, Chanthanimit, Muang Chanthaburi District, Chanthaburi, Thailand 22000
Telephone: +66-3960-5666
Website | Google Maps 
---
– THANYABURI –
---
Bang Pakok Hospital Rangsit 2 (Drive Thru)
Costs: ฿3,800 (For Thais), ฿4,500 (For non-Thais)
Address: 757 Rangsit-Nakhon Nayok 53 Alley, Tambon Prachathipat, Thanyaburi District, Pathum Thani, Thailand 12130
Telephone: +66-202-81111
Website | Google Maps
---
Paolo Memorial Hospital Rangsit
Costs: ฿6,000-฿8,000 (Excluding medication)
Address: 11, 1 Rangsit – Nakhon Nayok Rd, Tambon Prachathipat, Thanyaburi District, Pathum Thani, Thailand 12130
Telephone: +66-257-78111
Website | Google Maps
---
– PATTAYA –
---
Image credit: my-thai.org
Bangkok Hospital Pattaya
Costs: ฿3,800
Address: 301, Moo 6 Sukhumvit Rd, Muang Pattaya, Bang Lamung District, Chon Buri, Thailand 20150
Telephone: +66-3825-9999
Website | Google Maps 
---
– PATHUM THANI –
---
Krung Siam St. Carlos Hospital (Drive-Thru)
Costs: ฿5,000
Address: Tiwanon Road Ban Klang, Amphoe Mueang Pathum Thani, Thailand 12000
Telephone: +66-2975-6700
Website | Google Maps
---
Featured image adapted from: The Standard
Enjoying The Smart Local Thailand? Follow us on Facebook and Instagram for all things Thailand