Robber takes advantage of COVID-19 crisis
---
Images adapted from: PPTVHD36 
The rising numbers of COVID-19 cases around the world has made people worry about their health. This is especially so when tests are prioritised for people who show symptoms and are in high-risk groups.
One robber took this as an opportunity to trick locals by offering "free COVID-19 testing", and robbing an innocent 71-year-old woman in Thailand's Kalasin province.
---
Man preyed on the elderly
---

Image credit: PPTVHD36
Last week, 71-year-old Mrs. Thorn Boonrod revealed to the police officers that she was robbed by a man disguised in a white lab coat, claiming to be a doctor.
The man claimed that he would offer free COVID-19 testing, but Mrs. Boonrod had to take a shower first. 

Image credit: PPTVHD36
Sneakily, he took this time to steal a mobile phone together with ฿20,000 and a gold necklace, promptly escaping from the house before getting caught. 
She wasn't the only one to fall for his scam either. A 75-year-old grandma lost ฿800 after welcoming him into her home, and another 77-year-old grandma named Ms. Samai was duped too. However, the robber couldn't find any valuables while she was taking a shower.
---
49-year-old man arrested for the robberies
---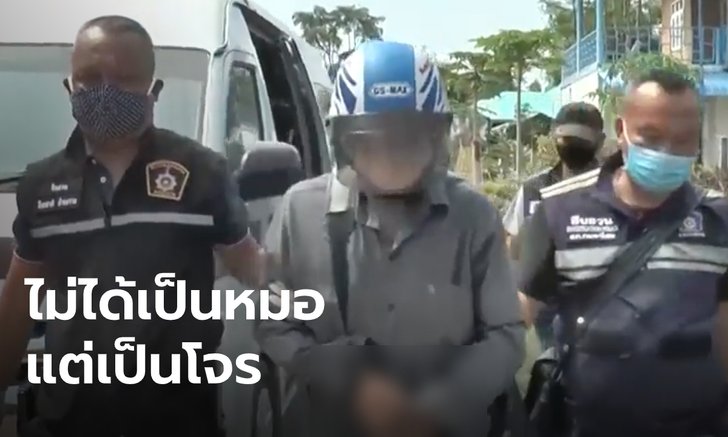 "Not a doctor, but a thief."
Image credit: Sanook
Police officers finally found the robber last week. The criminal is a 49-year-old named Wanlachon Singthong from Roi Et province. He confessed that he was hit by financial hardships after COVID-19 had affected his wood buying job, and thus had to turn to stealing in order to make a living. 
He then preyed on elderly people who were alone as home, with them being easy targets.
---
A warning for others during COVID-19 situation 
---
This is a warning for people all around the world. We are in the same situation, and we don't know who may have negative intentions during this crisis.
Stay vigilant and keep both your health and belongings safe!
News related to COVID-19 situation in Thailand:
---
Enjoying The Smart Local Thailand? Follow us on Facebook and Instagram for all things Thailand