Tourist inappropriately touches tiger at zoo
---
2020 hasn't been short of ridiculous news; from a woman divorcing her husband for being too perfect, to a lady turning her cat into Pikachu. But after a woman was caught fondling a tiger's genitals at a zoo in Chiang Mai, we have to say this takes the cake.
---
Netizens felt she humiliated the animal
---
On 26th August 2020, Waraschaya Akkarachaiyapas caused uproar after posting photos of herself fondling a tiger's testicles. Yeah, we know – wtf? 
She had visited Tiger Kingdom in Chiang Mai, an animal centre that lets people get up close and personal with adult and baby tigers. Unfortunately for the tiger, she got a little too close for comfort.

Image credit: Waraschaya Akkarachaiyapas via Daily Mail
Netizens were appalled by Ms. Akkarachaiyapas' photos after they went live. 
"This is so rude", someone wrote, "The tiger didn't allow you to touch his privates."

Image credit: Waraschaya Akkarachaiyapas via Daily Mail
Another commenter was also quick to point out that the lady was lucky that she didn't get mauled by an angry tiger. "This is dangerous. If the tiger had reacted angrily, it could have attacked you."
---
Claimed to be an animal lover
---
In response to those that called her out for "humiliating" the tiger, she defended herself by claiming that she was "an animal lover".

Image credit: Waraschaya Akkarachaiyapas via Daily Mail
After Tiger Kingdom heard about her ballsy move, head zookeeper Pirom Cahntama stated that all visitors are monitored closely to ensure the safety of the animals. All tigers also undergo regular health checks.
He mentioned that visitors weren't allowed to touch the tigers' testicles, though they could "touch any part of the animal's body as long as our specialists are present." 
Mr. Cahntama then promised to make sure that nobody would be able to "touch this part of a tiger's body again."
---
Wildlife tourism remains a touchy subject
---
Animal centres like Tiger Kingdom are no strangers to controversy. Many activists have raised awareness against tourist attractions that let visitors pose with tigers, most of which are suspected of being sedated in order to remain tame.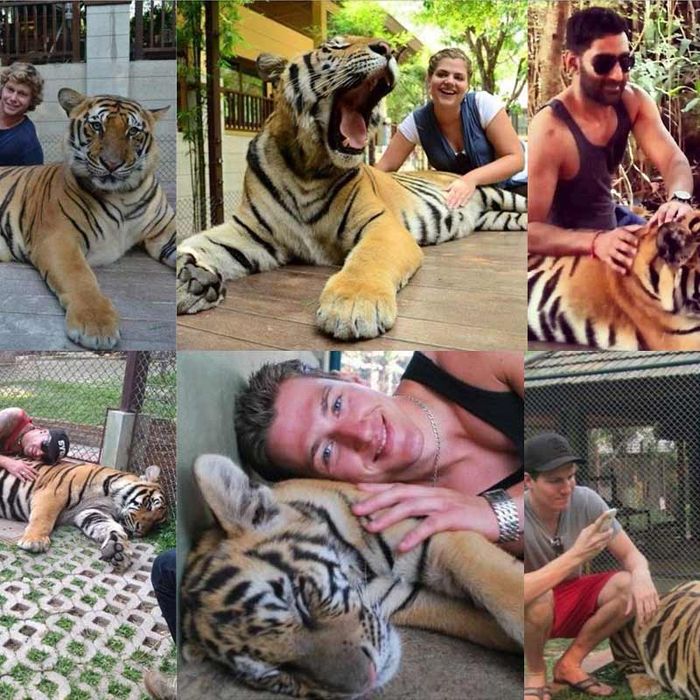 Image credit: The Cut
Marketed under the guise of "wildlife tourism", such activities are seen as harmful and exploitative – take Netflix hit Tiger King for example, which shed light on the underworld of such "tiger zoos".
Now, we'd like to believe that Ms. Akkarachaiyapas is no Joe Exotic, but let's never see anything like this happening ever again. 
---
Featured Image: Waraschaya Akkarachaiyapas via Daily Mail
Enjoying The Smart Local Thailand? Follow us on Facebook and Instagram for more stories like this.