Interesting 7-11 outlets in Taiwan
---

Images adapted from: @imissrainbow, @wendy612592, @aibulei, Momo Travel
If we haven't made it clear already, the folks at TSL Thailand adore 7-11. From a gigantic cruise ship-esque 7-11 in Pattaya to fun snacks to have on-the-go, it's no wonder we love this convenience store.
Meanwhile. Taiwan has completely gone one step ahead of us with its gorgeous outlets all over the country. From rainbow container cafes to chic marble interiors, here's how 7-11 in Taiwan is changing the game.
Also read:
---
1. Chic modern architecture, Kaohsiung
---

Image credit: @aibulei
This standalone 7-11 already turns heads with its sleek all-black exterior. But step in and head to the top floor – that's where you'll be greeted with floor-to-ceiling windows reminiscent of bright, scandi-style architecture.

Image credit: @aibulei
Address: No. 255, Linsen Fourth Road, Qianzhen District, Kaohsiung City
---
2. Rainbow shophouses, Yilan
---

Image credit: @hy214_photography
A stark contrast to the previous outlet, this 7-11 comes in vivid shades of the rainbow. It also takes on a cute shophouse facade – stand back and get a shot of the whole area!
Address: No. 369, Section 1, Chuanyi Road, Wujie Township, Yilan County
---
3. Dessert paradise, Taichung
---

Image credit: Momo Travel
If desserts are the love of your life, then this 7-11 outlet in Taichung will satisfy your candyland fantasies. Now, "Dessert Paradise" isn't the official name of this one, but you'll see why we're calling it so.

Image credit: Momo Travel
Inside, the store comes with ample seating for you to nom on your snacks while snapping some cute photos while you're at it. There's also a "swing" seat outside with a pink background to pose with.

Did Barbie or Hello Kitty design this?
Image credit: Momo Travel
Address: No. 835 Jiahou Road, Houli District, Taichung City
---
4. Cherry blossom railway theme, Hsinchu
---

Image credit: Momo Travel
With pastel container rooms and pretty sakura-themed graffiti peppered around, the 7-11 Tengda store in Hsinchu is an Instagrammer's dream.

Peep the little Sakura tree to get a photo with!
Image credit: Momo Travel
The store takes on an industrial loft look, with staircases leading to an upstairs seating area. We reckon people wouldn't be doing much eating here!

Image credit: Momo Travel
Address: No. 211, Section 2, Zhongfeng Road, Hengshan Township, Hsinchu County
Also read:
---
5. Pastel green exterior, Tainan City
---

Image credit: @duddy10759
While we're on the topic of colourful 7-11 outlets, feast your eyes on this outlet in Tainan.
With a gorgeous light green exterior and intricate tile work, this one is on top of our photo bucket list for sure.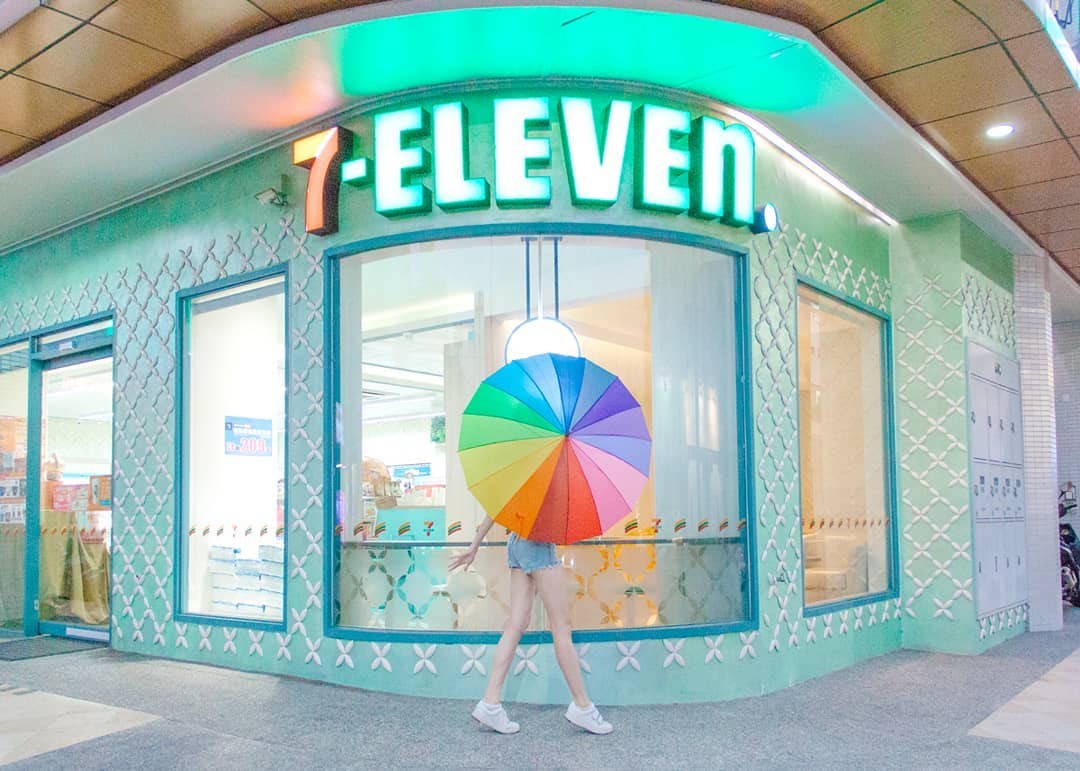 Photo tip: Adjust the hues to make the walls a gorgeous Tiffany Blue
Image credit: @imissrainbow
The interior also comes with similar blue-green accents, with everything from its shelves to fridges.

Image credit: 7-ELEVEN Fan Page via Lookit.tw
Address: No. 19, Renai Street, Yanzhouli, Yongkang District, Tainan City
---
6. Rainbow container store, Miaoli
---

Image credit: @yan_liang_lin
This just may be my favourite  7-11 store ever.
This rainbow fantasy is made up of vibrant industrial containers stacked atop one another, looking like a Sims 4 build come to life.
Get some nice shots inside too
Image credit: @wens_chi

Image credit: @eric916107
Address: No. 28, Yuandun, Xinchuanli, Miaoli City, Miaoli County
---
7. White lighthouse exterior, Pingtung
---

Image credit: @chenlans
This unique outlet is giving us Santorini-vibes with its lighthouse exterior. This makes sense as its located in Pingtung Country in southern Taiwan, known to be a beach destination for both locals and tourists.
Address: 1F, No. 303-2, Zhongzheng Road, Dafu Village, Sanmin District, Liuqiu Township, Pingtung County
---
8. Fashion-themed dining area, Taichung
---

Image credit: Momo Travel
While you're in Taichung checking out the previous candy-themed outlet, don't forget to pop by this one as well. From marble walls to fashion-themed decor, this is the outlet for budding beauty gurus to head to.

Even the toilet looks chic here
Image credit: Momo Travel
This is actually a dining area that comes attached to the outlet, so you can get some drinks and ready-to-eat goodies to sit and chill here.
Image credit: Momo Travel
Address: 571-1 Fuya Road, Xitun District, Taichung City
---
9. Lego-style entrance, Taichung
---

Image credit: Momo Travel
Kids and kiddos-at-heart, welcome to 7-11 heaven. Inspired by the iconic building blocks, this outlet is looks like an upsized LEGO build from our childhood.

Image credit: Momo Travel
Once you're done eating, walk around and look at real lego displays around the store too.
Address: No. 195, Section 2, Minhe Road, Qingshui District, Taichung City
---
Photogenic outlets with more than just snacks
---
Convenience stores are usually the last place one would think of when taking pretty shots for the 'gram, but 7-11 Taiwan is here to prove you wrong.
We can't wait to start travelling again and to have Taiwan back on our horizons. After all, it's only a ~4 hour flight from Bangkok to destinations like Taipei and Taichung, so a vacation awaits!
Also read:
---