Bangkok during COVID-19
---

Images adapted from: Reuters
All of us were anticipating April to be an exciting month all across the country with Songkran season in tow. Alas, festivities have been cancelled, and what should have been a vibrant time of celebration has us all cooped up indoors instead, no thanks to COVID-19.
The difference is stark. Bangkok's once lively streets are now eerily empty and quiet – here's how much has changed during the pandemic.
---
Empty streets and attractions
---
Bangkok's key hotspots such as Khaosan and Yaowarat Road almost seem like ghosts of their past selves. Though the latter is bouncing back with vendors returning to the streets, Khao San foresees only going back to normal in 2021.
---
Yaowarat Road
---
Before: Bangkok Chinatown is jam packed with vehicles, vendors, and people
Image credit: Kit Dale/Culture Trip

After: A vendor demonstrated how empty the streets have become by playing a game of badminton
Source

Vendors and visitors slowly trickle back to Yaowarat, though strict measures are still put into place
Image credit: The Nation Thailand
---
Khaosan Road
---
Bangkok's nightlife paradise has seen a huge hit, with its iconic Khaosan Songkran Party being scrapped due to the outbreak.

Images adapted from: Shutterstock, Khaosod English

Khaosan Road will probably only return to normalcy in 2021
Image credit: Khaosod English
---
Silom
---
Silom is where BKK's parties come to life, attracting locals and tourists to its vibrant restaurants and pubs that line its alleyways.

Before: Songkran Festival celebrations in 2015
Image credit: Reuters

After: The same street taken in April 2020
Image credit: Reuters

Image credit: Reuters
---
Siam
---

Images adapted from: Khao Sod English and The Standard
Siam is probably the heart of Bangkok and is known for its shopping streets and the like – but not anymore.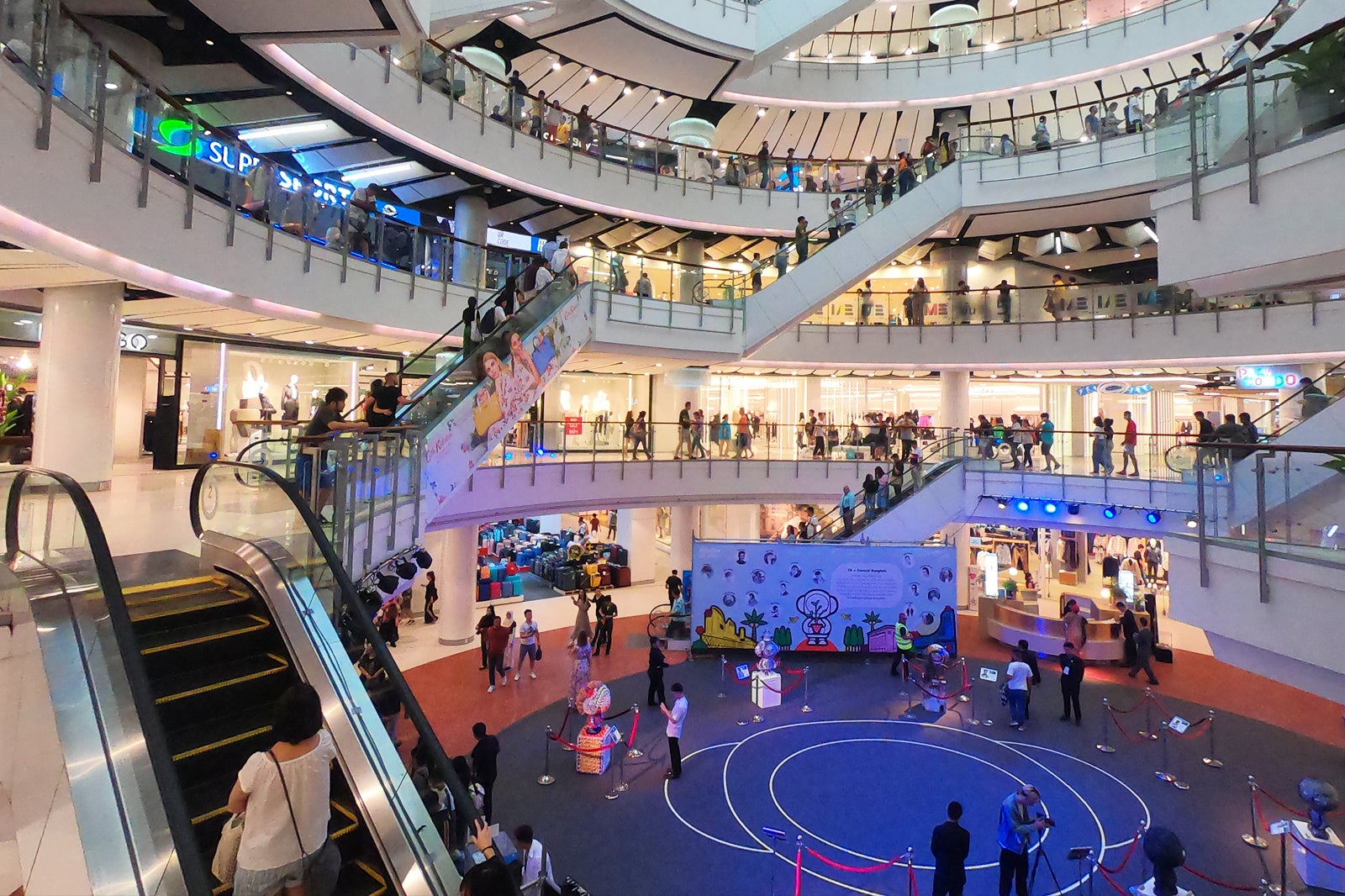 Before: Shoppers at CentralWorld in late 2019
Image credit: OppaPoo

After: CentralWorld after the shut down order was implemented for business – only the supermarket and pharmacy remained open
Image credit: FM91 Trafficpro

Empty pathways – an unusual sight for Siam
Image credit: The Standard
---
Bangkok rests as the city heals
---
Youtuber Manit Monsur filmed the empty streets of Bangkok earlier in April, showing everyone how drastically the pandemic changed the city.
"Despite of the impact on the economy and lifestyle, COVID-19 is really the only thing that is helping reduce the pollution caused by big cities like Bangkok," he wrote in his description.
Here are some of the places he visited:
---
Ratchada Train Market
---
One of the biggest changes was at Ratchada Train Market – its colourful tents are nowhere to be seen as vendors have vacated the premises.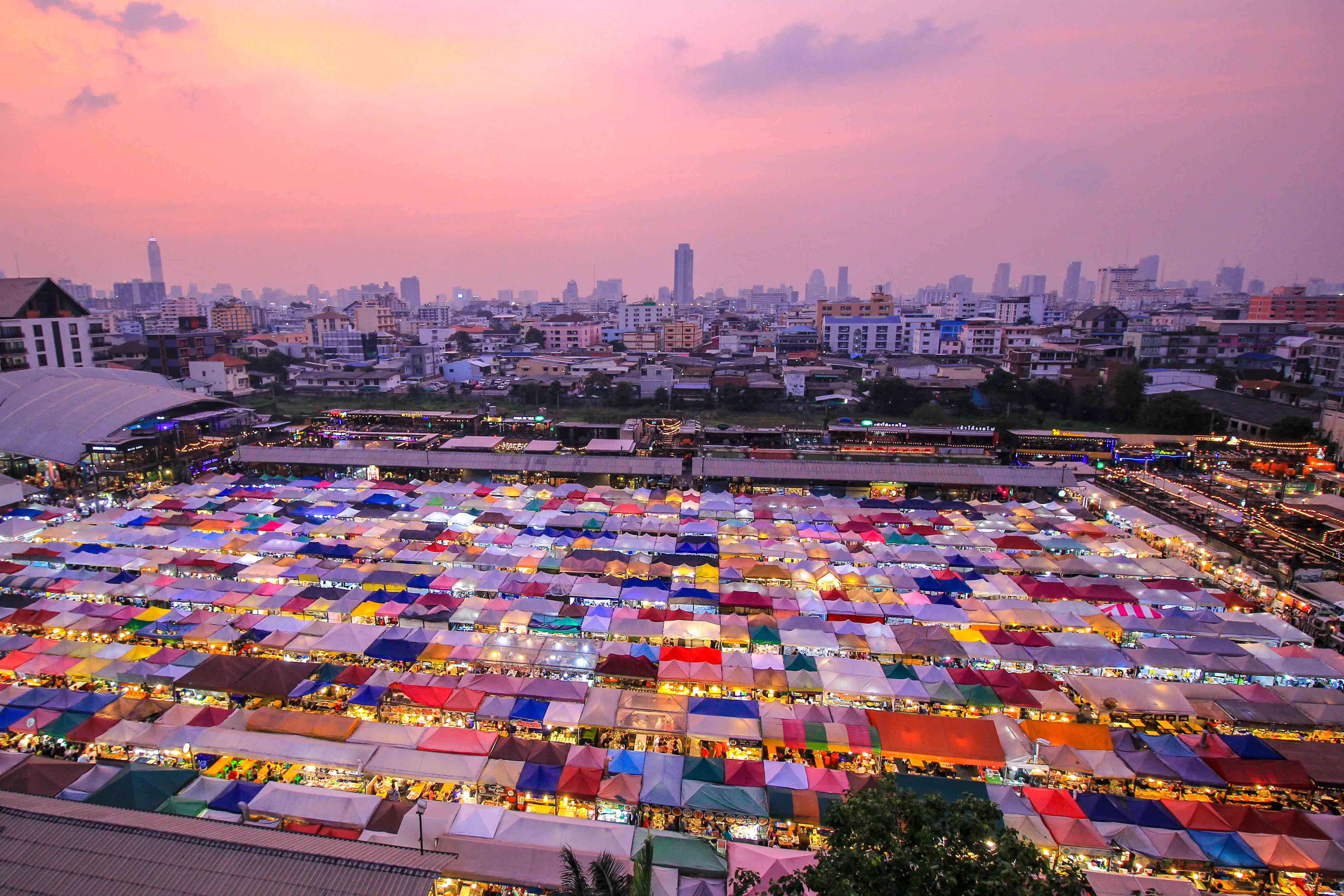 Before: Colourful tents make the market come to life at night
Image credit: Places of Juma
After: The market space is now completely empty
Image credit: Manit Monsur
---
Erawan Shrine
---

Before: People come to pay their respects and make merit
Image credit: Latin American Studies
After: Zero crowds
Image credit: Manit Monsur
---
Adapting to life after COVID-19
---
The colour might seem to have faded from Bangkok for now, and we can't wait for life to return to its streets.
In the meantime, let's continue practicing the necessary safety measures in order to keep ourselves and the city safe.
---