Woman has a celebration instead of funeral
---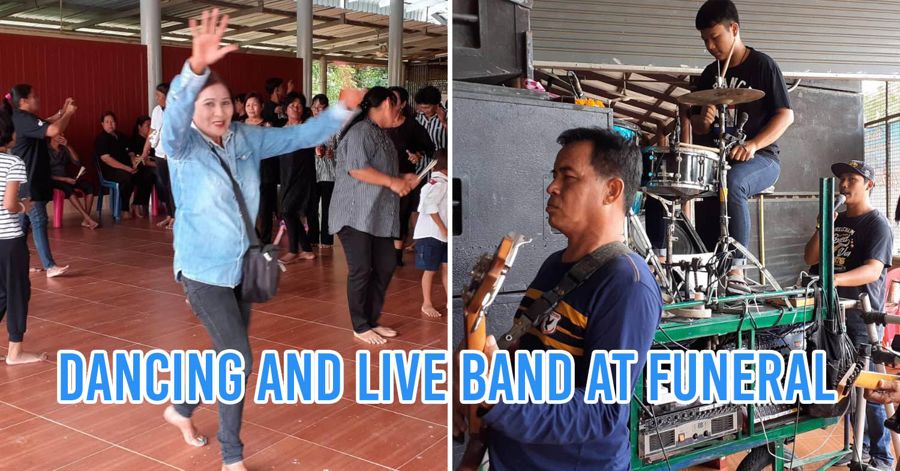 Image adapted from: Sanook
Some people enjoy every bit of their lives, even after they've passed on. Take 55-year-old Chalo Chumvichian, a flower garland seller from Suphan Buri province, who insisted on having a bangin' funeral. This took place after she passed away from heart failure on 15th August 2019. 
---
Family respected her wishes and hired a band for funeral
---
Aunty Chalo's family respected her wishes when the time came and arranged for a band to be present on her cremation day. This filled the temple grounds with lively music, instead of it being a solemn ritual. Attendees were also encouraged to wear colourful attire instead of traditional black and white outfits.
Aunty Chalo was known for always smiling
Image credit: Sanook
People at the funeral were dancing along with the loud, upbeat music, which is usually a part of auspicious events like weddings or ordinations. Even procession personnel like undertakers were seen enjoying the occasion. 
Everyone took part in the festivities – even the undertakers!
Image credit: Komchadluek
According to Thai-Buddhist tradition, the casket is normally carried around the cremation pavilion 3 times with sorrowful music to send a soul into the afterlife in peace. But clearly, Aunty Chalo decided having a sad occasion wasn't her cup of tea.
---
"My mom despised sadness" 
---
Bands are often seen at happy events
Image credit: Sanook
Aunty Chalo's youngest daughter Patcharee revealed to Sanook that her mother was a fun-loving person. During her free time, she often went to dance at ceremonious events like monk ordinations. 
It is believed that when one dances to the music played during a monk ordination ceremony, they will become an angel in the afterlife. 
People were dancing at ceremony
Image credit: Sanook
Patcharee also recalled how Aunty Chalo despised being sad. She used to teach her children not to be unhappy and enjoy life, and told them not to cry when she passed away, as she won't be able to move on otherwise.
She said that her mother also loved football when she was still alive, so there were 2 football competitions held at the temple's field to honour her. 
Children's football match
Image credit: Naewna
---
Family kept their promise
---
After Aunty Chalo peacefully passed away at home, her family didn't hesitate to create a fun funeral just as she wished. Many relatives even wore a bright and colourful outfits to the event, and danced along to the music to celebrate the life of their loved one.
Aunty Chalo must have been so proud and happy, and may she continue busting her moves, wherever she may be. Her life's philosophy is valuable to us all – enjoy life folks!