Mass anti-coronavirus prayers in Thailand
---

Image credit: Shutterstock
As a nation steeped in religion and superstition, Thailand is doing all it can to combat COVID-19, whether scientific or not.
On Wednesday, the government announced that monks nationwide have been asked to chant the Rattanasoot Prayer on 25th March 2020 in unison. This will be broadcasted live on national TV around the country from 4pm onwards, Khaosod says.
The Sangha Supreme Council, which governs the Buddhist order in Thailand, has instructed monks at every temple (wat) as well as Thai Buddhist temples overseas to chant the prayer. This was approved by Prime Minister Prayut Chan-o-cha in efforts to boost morale and keep citizens in high spirits.
Also read:
---
Prayer written by early Buddhist disciple
---
Prime Minister's Office chief Tewan Liptapanlop explained that the country believes that chanting can help "cast away sickness and other bad things from the country," – even in the times of cholera outbreaks which occurred through the 1800s.

Buddha and Ananda
Image credit: Medium
The Rattanasoot Prayer, also known as the Seven Legends Prayer, is believed to have been written by one of Buddha's first disciples, Ananda. The prayer calls upon spirits to have mercy on humans, and was used to ward off demon attacks and plagues.
Anti-plague prayers are not unheard of amongst the religious community. On Sunday, Pope Francis defied Italy's lockdown orders to conduct a prayer at a "miraculous" crucifix that supposedly helped the Romans defeat the plague in 1522.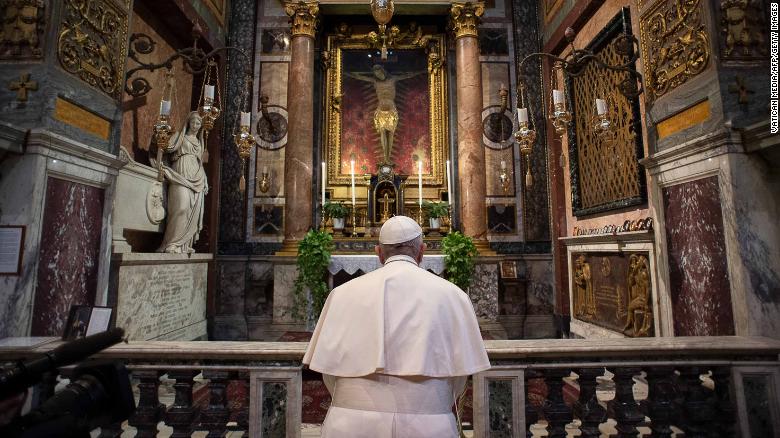 The crucifix is located at San Morello church in Rome and dates back to the 14th century
Image credit: Vatican Media/AFP/Getty Images
---
Will help reassure citizens
---
Thepthai Senpong, Democratic Party MP, said that Thailand has to use "every method at our arsenal right now", whether scientific or supernatural. He added that this might be met with criticism, but according to Buddhist principles, "we have to treat mental health problems with prayer chants and meditation to relax."
With the mental and emotional strain that comes along with pandemics like COVID-19, and we can see how something like this can bring a peace of mind to people amid dark times. We can only appreciate efforts taken into reassuring citizens, even if one might not necessarily have the same belief system.

Image credit: Find Thai Property
Regardless, the country has also taken more serious measures in containing the virus. This week, schools across Thailand were ordered to shut down for 2 weeks. Entertainment venues, gyms, and even massage parlours in Bangkok face a similar lockdown, which will be conducted until 31st March 2020.
Citizens are encouraged to cancel all non-urgent travel and minimise being outdoors as well.
The prayers will be broadcasted on NBT Channel 11 and MCOT Channel 9 from 4pm, 25th March 2020. Mass chantings will also take place at Wat Bowonniwet Vihara, Wat Traimit Withayaram Worawihan, and Wat Ratchabophit in Bangkok.
Keep up with the COVID-19 situation in Thailand:
---