The Fairy Cottage in Cameron Highlands
---
We all know and love Cameron Highlands for its colder temperatures and tea plantations that make us feel as if we've wandered further from home than we actually have. Now that we're able to travel freely again, you can consider booking a stay at The Fairy Cottage.
The quaint cottage is tastefully decorated, and has a balcony that boasts spectacular views of the mountains. It's also conveniently located in the vicinity of Tanah Rata, and a 30-minute drive from popular local attractions such as Boh Tea Plantations.
---
Conveniently located near downtown Tanah Rata
---
The cottage boasts three bedrooms and two bathrooms (from RM262/night) – ample space for families or a group of eight. You'll have the whole house to yourself, along with free parking. The self-check-in process is fuss-free to boot.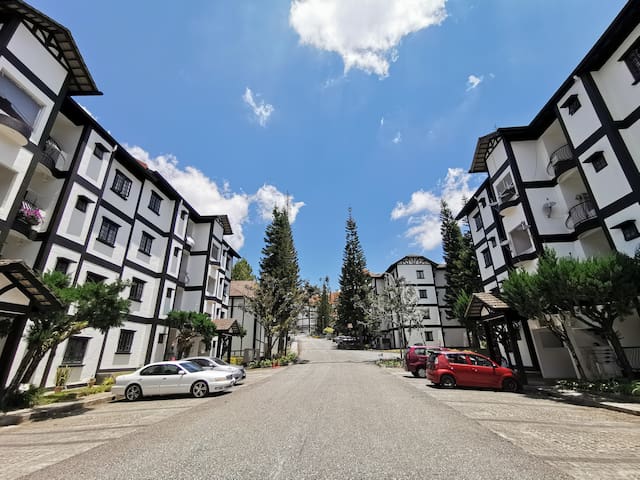 The Airbnb is located in a quiet cottage-styled low-rise apartment
Image credit: Airbnb
Best of all, it's just a 5-minute drive and a 10-minute breezy walk to downtown Tanah Rata, where you'll easily find Chinese restaurants and more nearby to grab a bite at.
---
Country-style living and cosy balcony for a quiet staycation
---
While there's plenty to do within the vicinity of the cottage, the house is decorated to ensure that guests have comfortable stay, making for a great staycation spot away from crowds for folks who prefer something slower-paced.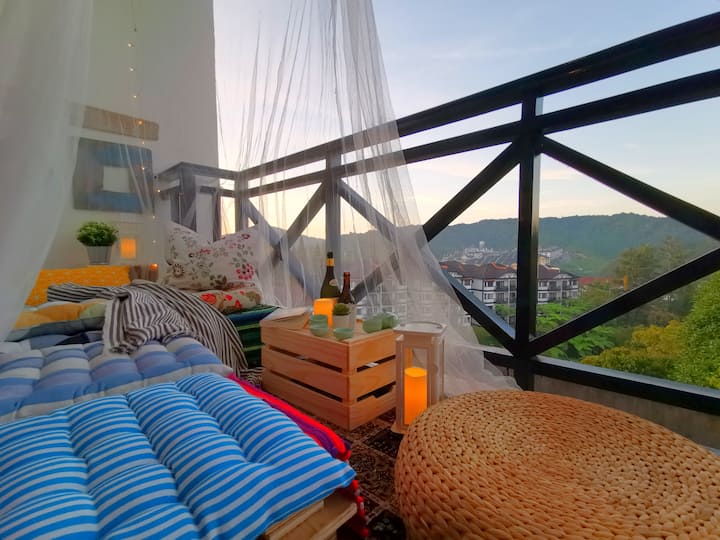 Image credit: Airbnb
For starters, there's a balcony where you can catch sunsets over mountains on comfy platform seats littered with pillows. It's also a great spot to soak in the cool air while sipping on mugs of tea made with tea leaves from nearby plantations. The Airbnb host has provided tea sets with this in mind.

Watch the sunset or have some tea on the balcony
Image adapted from: Airbnb
The living room is just as cosy and comfy as the balcony. Inspired by summery interior designs, you'll find soft yellow lighting and tasteful art pieces complementing the stunning view of the mountains.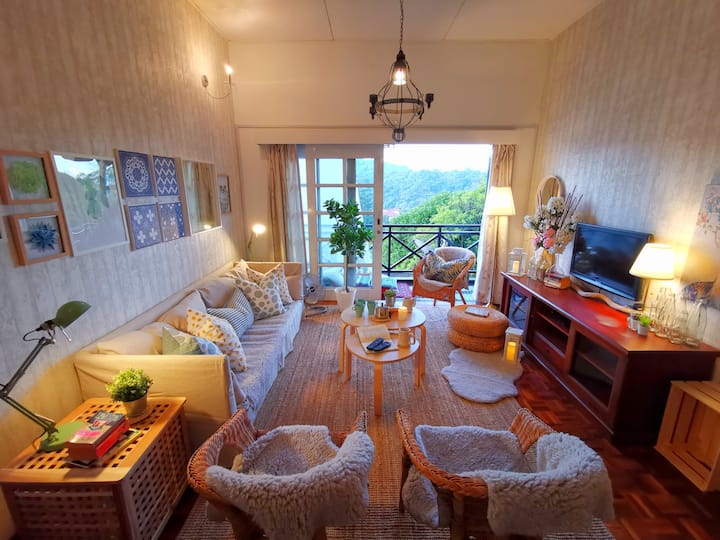 Image credit: Airbnb
The living room comes furnished with a plush three-seater couch and plenty of rattan chairs lined with soft blankets to seat up to eight guests in the living room – more than enough for you and your family or friends.
There's also a TV with basic cable channels for you to flip through on slow mornings.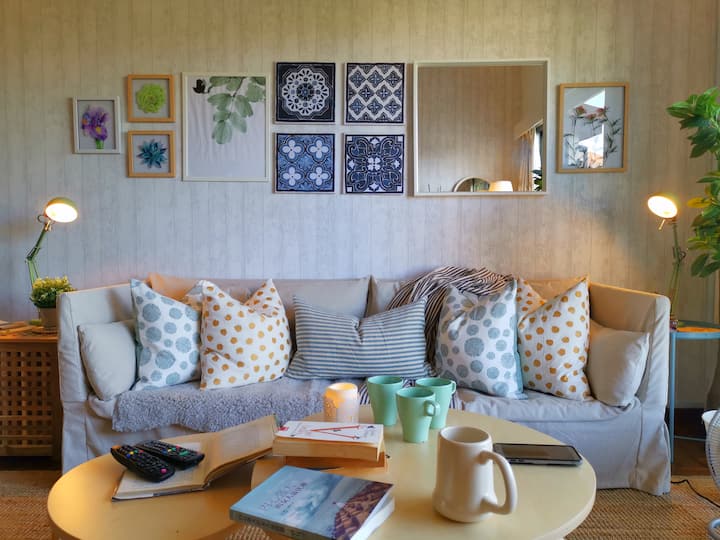 Image credit: Airbnb
If you plan on cooking, the kitchen comes equipped with a fridge, induction stove top, rice cooker, and water purifier. There'll be basic cookware provided, such as pots and pans.
A cosy dining table set up also lets you host a dinner party and show off your cooking skills in style.

Image adapted from: Airbnb
---
Comfy bedrooms with stunning views of nature
---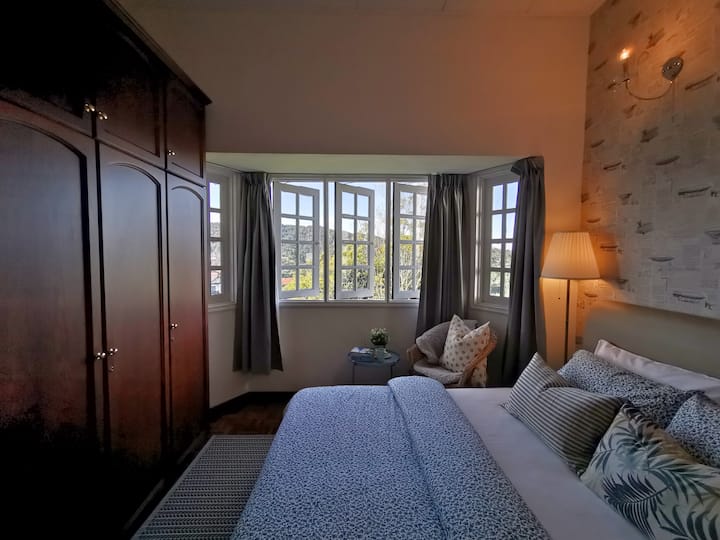 Wake up to stunning views of mountains
Image credit: Airbnb
More country-living fixtures and mountain views can be found in the three bedrooms of this Airbnb. Fitted with queen beds in two bedrooms and double beds in the third room, you and your guests will definitely get a good night's sleep.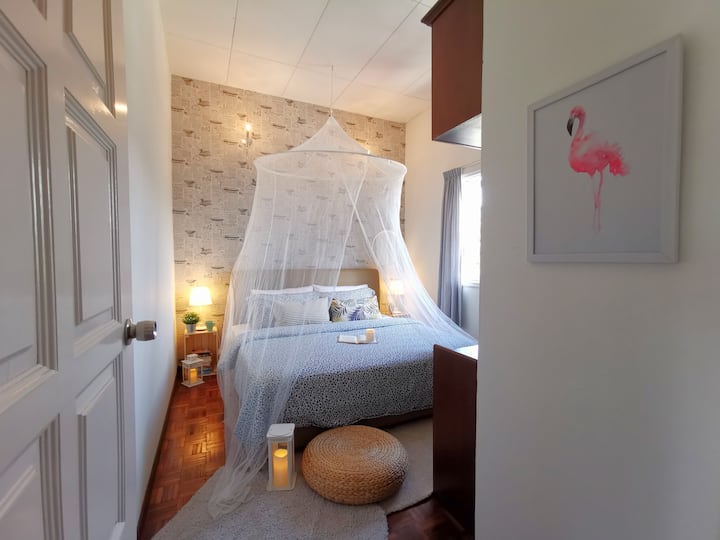 Image credit: Airbnb
There are pull-out mattresses if you do intend on maxing out its guest limit but still want spacious sleeping arrangements. And while there's already enough pillows to build a fort, you can also request for extra pillows, blankets, and bed linen from the Airbnb host.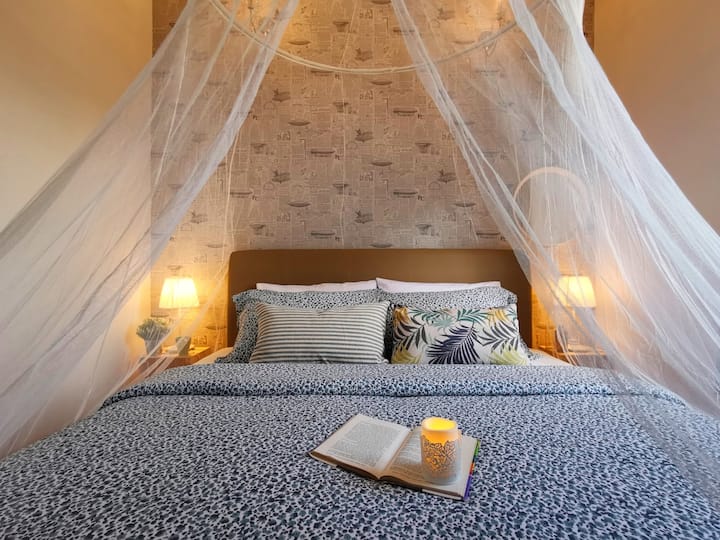 Image credit: Airbnb
You'll have to bring your own towels to make the most of its bathtubs, but there're washers, iron, and air dryer provided.
---
A quiet staycation at The Fairy Cottage in Cameron Highlands
---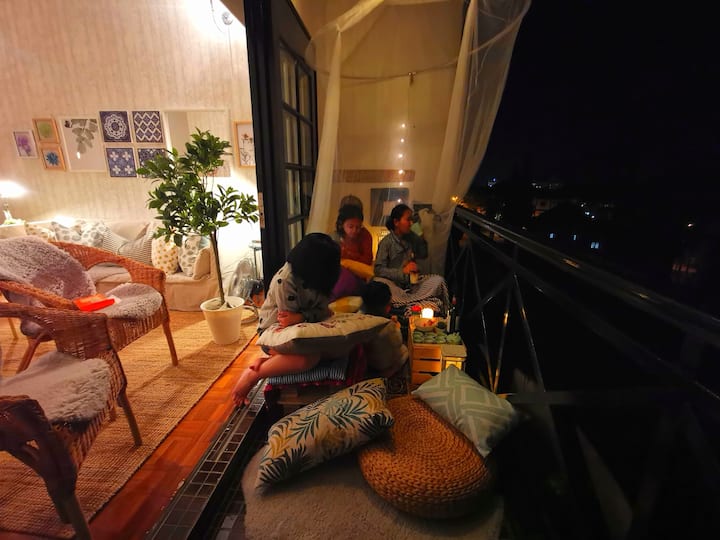 Image credit: Airbnb
We've seen our share of stunning house makeovers from creative individuals during MCO and that has raised our appreciation for home decor recently. The Fairy Cottage is checking off many of our boxes with its spacious living room and a cosy balcony that allows guests to soak up the view and cool temperatures.
But while you're now able to book a spot and drive out to Cameron Highlands, don't forget to adhere to SOPs even on vacation. This includes necessary precautionary measures such as social distancing while at a rest stop and visiting popular scenic sites, as well as following any guidelines your host might share with you before you pack your bags.
Check out our other articles:
---
Cover image adapted from: Airbnb
Follow The Smart Local Malaysia on Facebook, Twitter, Instagram and Telegram for more stories like this. If you have a story to share, email us at pressmy@thesmartlocal.com.