Malaysian reveals touching letters from her dad to her mum
---
Love letters from dad to mum
Image adapted from: @umairaharis
In this digital age, our phones are indispensable devices for us to keep track of our loved ones and stay updated on the news. One of the many other reasons it's great to have them constantly on hand is that we can also get to capture rare sights such as double rainbows and random acts of kindness that we come across in our daily lives.
While the advent of technology has improved our lives by leaps and bounds, and made communication much more convenient, there are many nostalgic things that make us go "aww", as proven by a Malaysian woman who took to Twitter to share love letters that her dad used to send to her mum in the 1980s.
---
Letters reveal sweet words and efforts of previous generation
---
Photos of the touching letters were shared on Twitter by netizen @umairaharis, where it has since racked up over 26,000 retweets and 37,000 likes at the time of writing. One of them showed a handwritten letter that just said "Dear! I miss you so much!" which melted netizens' hearts and had them reminiscing about the good old days of letter writing and receiving letters from a loved one.
As a tribute to her dad, who has passed away, @umairaharis shared a touching caption on Father's Day, 21st June 2020, alongside the letters. It can be translated from Malay to English as:
"Sometimes, I ask myself how my mum went 21 years without finding a replacement for my dad? But when I read his letters to her… I found my answer. If I were in her place, I would wait for my true love for 1,000 years more."
Image credit: @umairaharis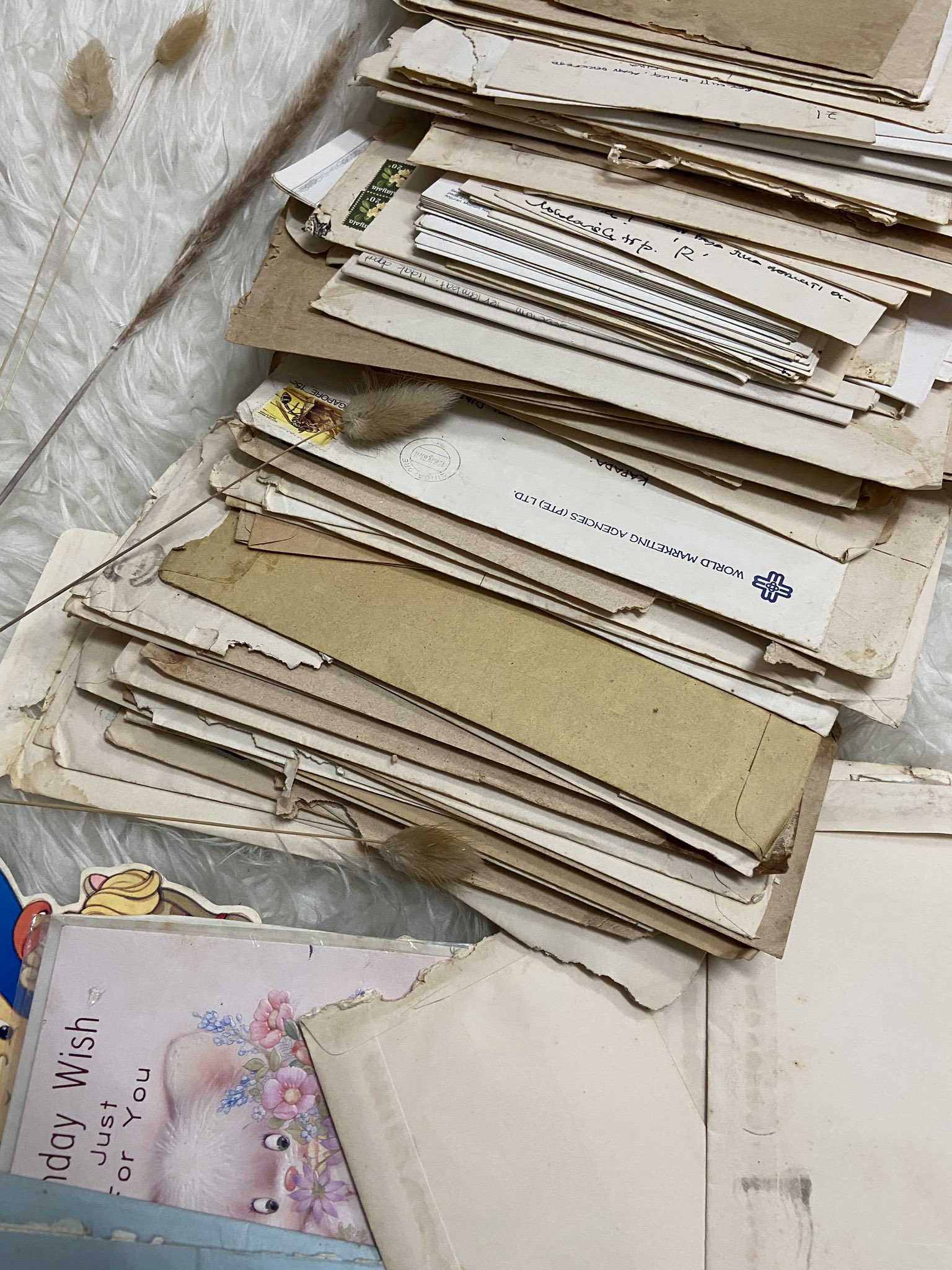 Image credit: @umairaharis
Like a true romantic, @umairahari revealed that her dad's letter-writing carried on for years – with some letters written just 13 days apart and containing only a few words each.
One of her dad's letters dated 26th February 1986 from the pile had a short paragraph neatly printed in his handwriting, packed with words of endearment for her mum. "Manja! Merindui, mengingati dan mengasihi-mu, adalah, derita yang bahagia, seksa yang indah!" he wrote. And the words can be translated as, "Dear, missing, remembering, and loving [you] is a joyful pain and beautiful suffering."
Another letter her dad wrote a month later on 27th March 1986 had even fewer words, but carried just as much longing. It was a simple "Dear, I miss you very much!" message, not unlike our text messages nowadays.

Image credit: @umairaharis
Another tweet @umairaharis shared on Twitter the same day after her initial tweet went viral showed even more letters, birthday cards, and journal entries that proved that her parents' letter writing efforts continued long after they got married.
One of the photos showed a journal entry where her mum narrated what had happened on her dad's birthday to a younger version of herself. It included sweet memories of where they used to live in Seremban, and what cake they had bought to celebrate her dad's special day years ago in January.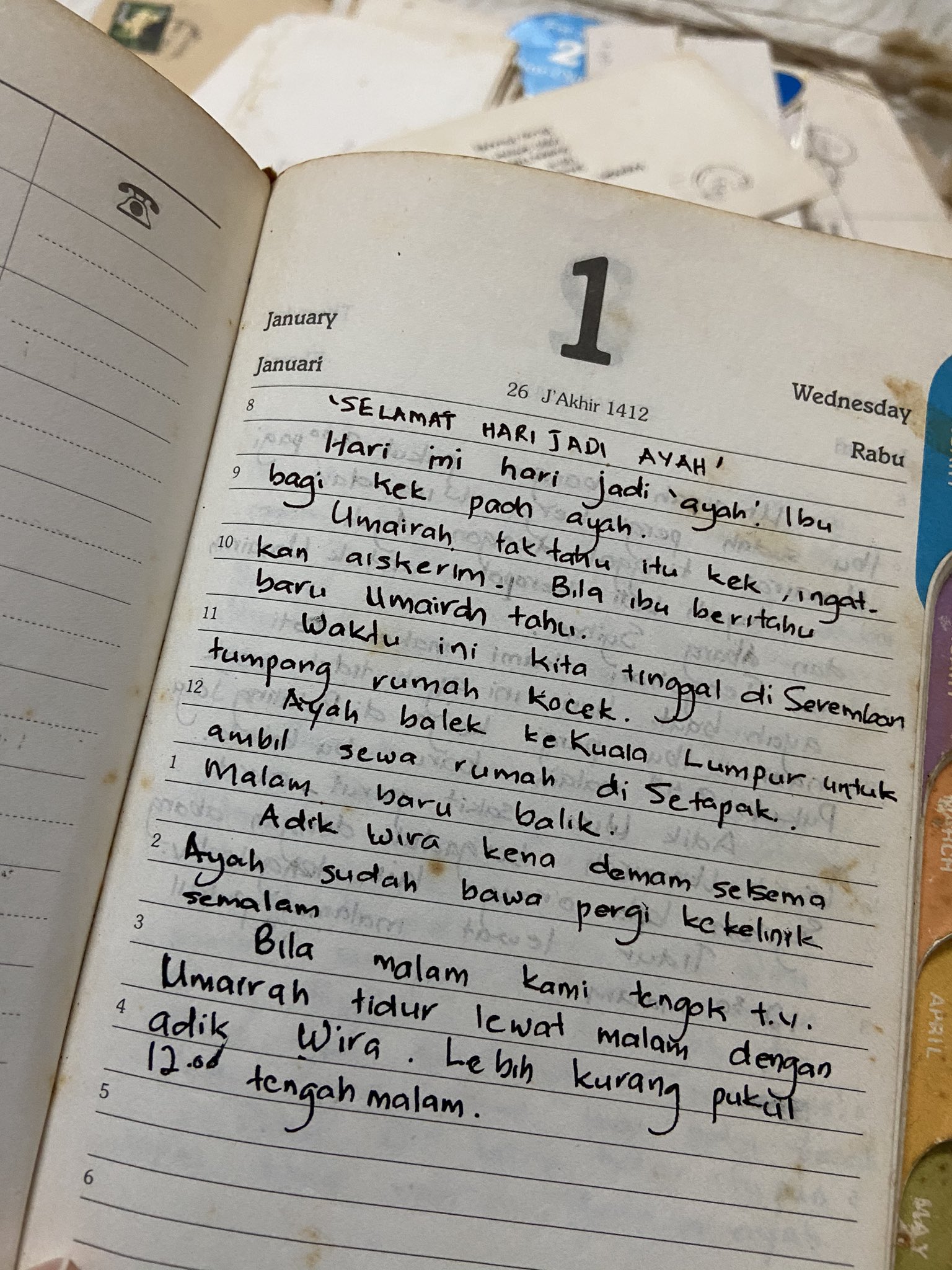 Image credit: @umairaharis
---
Netizens applaud previous generation's efforts and wishes for the same
---
Inspired by her parents' sweet act of love for each other, @umairaharis shared in a tweet that she wanted to start writing to her 2 young kids too. Her resolve seemed to have rubbed off on other netizens as well, with many of them replying to her tweet and saying that they want to do the same for their loved ones and future kids as well.
Netizen @admliks  was so touched by the photos that he said, "With this, I'll write every paragraph of our story from the day we meet until we grow old."

Image adapted from: @admliks
Many more also replied to the thread with pictures of letters their parents used to share with each other.
Twitter user @lisazulkhaidah was one of them. She shared a tweet of hers that was posted in 2019, which showed pictures of cards her dad used to send to her mum. One of them was presumably sent after an argument, as it included a message that said: "Forgive me about last night for not being understanding, for being too jealous, and for hurting your feelings."

Image adapted from: @lisazulkhaidah
And to aptly sum up how netizens were feeling over the sweet letters that were springing up from the previous generation, Twitter user @flxrscnt said: "How sweet are the people from the previous generation [crying emojis]."

Image adapted from: @flxrscnt
---
Daughter share touching letters from her parents
---
Receiving letters aren't exactly the norm these days – unless you count your bills. But as Twitter user @umairaharis reminded us, letters had a very different use back in the days when her dad and mum were dating.
So while we can easily send a text to someone we love and care about – or even video-call them – we can consider putting in more effort by writing them letters which can become keepsakes instead.
Read more news in Malaysia here:
Follow The Smart Local Malaysia on Facebook, Twitter, Instagram and Telegram for more stories like this. If you have a story to share, email us at pressmy@thesmartlocal.com.