Malaysian GrabFood rider takes cats out for a spin
---
Image adapted from: @nadiaafauzii

The Movement Control Order (MCO) has brought to light some seriously hilarious stay-at-home antics as Malaysians tried to keep ourselves busy indoors. And another silver lining was that those of us with furkids had been able to spend more time with them.
But it seems like we can never get enough of our furry pets – especially now that we're all heading back to work as usual under the Recovery MCO phase. So instead of leaving his pet cats at home, this Malaysian GrabFood driver decided to bring them along as he went about making deliveries in Kuala Lumpur.
---
Food delivery rider's creative setup to bring cats along on deliveries
---
The adorable and unique sighting was posted on Twitter by user @nadiaafauzii on 11th June 2020. And of course, within a short time, it has managed to catch the hearts of netizens. At the time of writing, the tweet has got over 25,600 retweets and 40,600 likes.
The photos that @nadiaafauzii shared in the tweet showed a cage containing 2 cats strapped carefully to the GrabFood delivery rider's motorcycle with bungee ropes. To further secure the cage, the rider strapped his GrabFood bag over it.
And that's not all – if you look at the picture carefully, you'll notice that the rider also used what looks to be a PVC pipe to prop up the cage – presumably to make sure that the cage stayed upright as he went about his deliveries.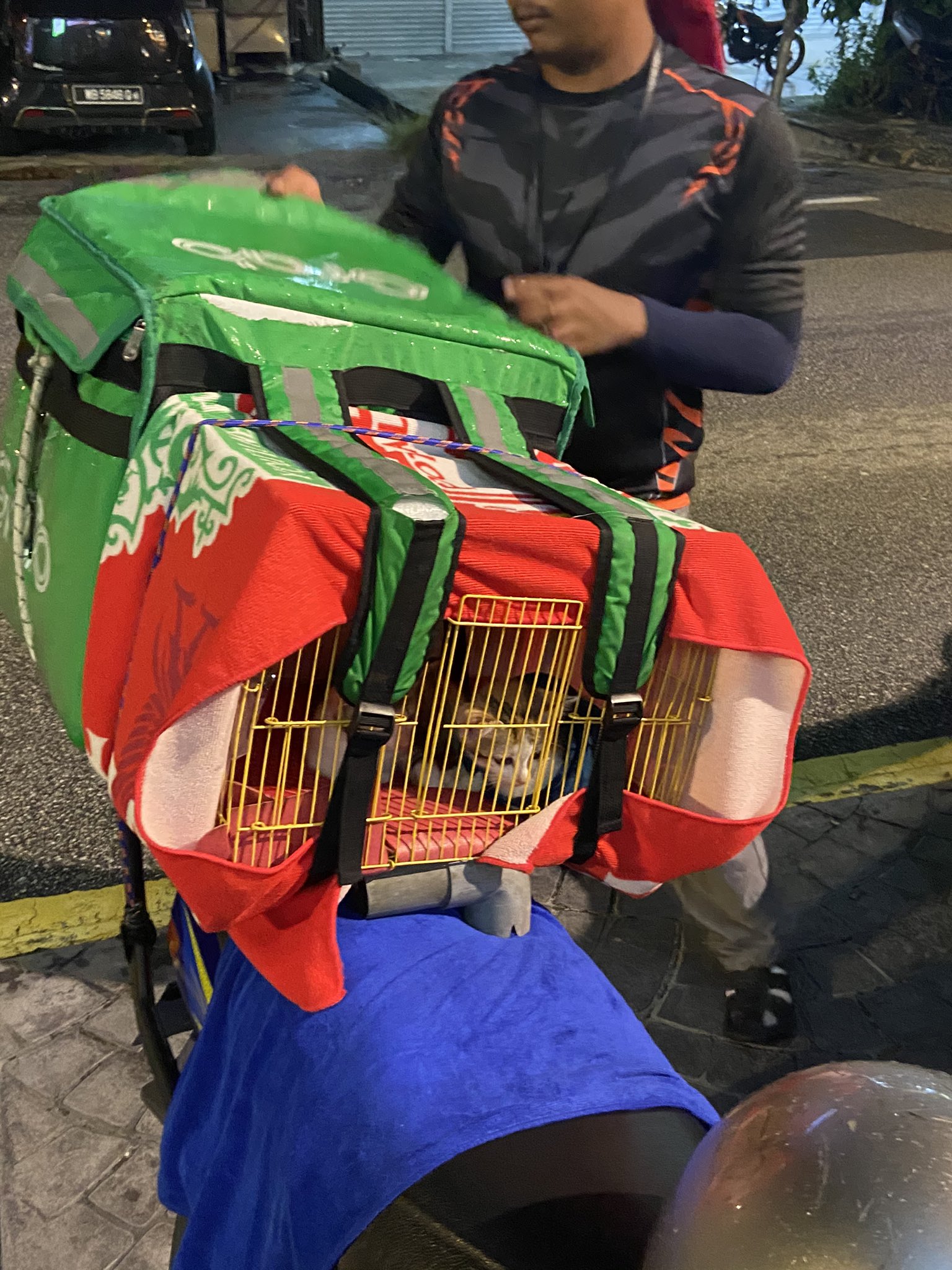 Image credit: @nadiaafauzii
The well-crafted setup saw his pair of pet cats comfortably tucked inside the cage. But it's still a unique sight that not everyone can say they've seen – which is why @nadiaafauzii was prompted to ask him why he brought along his cats to work.
To this, the GrabFood rider simply responded, "Saja bawak jalan jalan", which can be translated from Malay to English as: "I just wanted to bring them around town for a ride."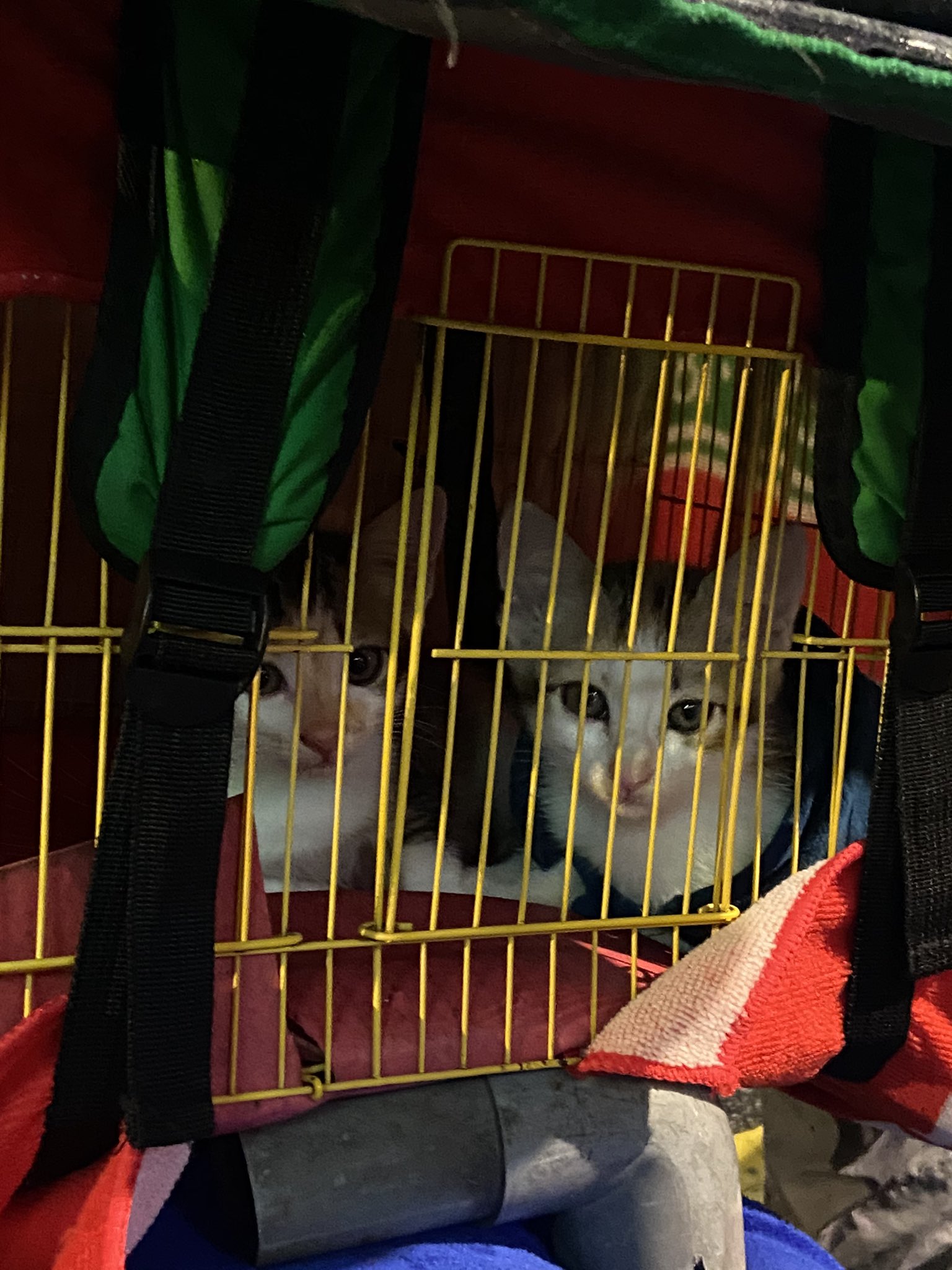 Image credit: @nadiaafauzii
As the tweet from @nadiaafauzii has since gone viral, the GrabFood rider's friend, whose Twitter handle is @iskandariahahaa, replied to the original post to add a little more context to his friend's actions.
Along with another snapshot of the delivery rider's cute cats, he commented: "By the way, the cats belong to my friend. He just doesn't like to leave his cats at home. He's worried that they'll get lonely."


Image adapted from: @iskandariahahaa
---
Netizens cannot tahan how cute his cats are
---
As cat owners are known to unite whenever a cute cat post springs up, netizens started replying to @nadiaafauzii's post with pictures of their own adorable cats too.
But many more came out to flood her post with a flurry of "Comel!" over the sighting of the 2 cats on the back of the GrabFood driver's motorcycle.

Netizens cannot tahan the cuteness of the cats
Image adapted from: @nadiaafauzii
There were also a few who didn't hold back on the jokes, including netizen @storage_phone, who tweeted out a picture of a cat in a plastic bag with a caption that says "Wait. I don't remember buying this". This is presumably in reference to the cats being taken for a spin while their owner is on food delivery duty.

Image adapted from: @storage_phone
---
GrabFood rider brings along pet cats while making deliveries
---
Our pets have been a source of comfort and cuddles during the MCO, which is why we can't help but feel a little sad that we have to leave them at home and go back to work. So we don't blame this GrabFood delivery rider who brought along his cats while out making food deliveries because he's afraid that they'll be alone at home. We hope that he continues to stay safe while taking his cats out for another ride through KL.
Keep updated with news in Malaysia:
Follow The Smart Local Malaysia on Facebook, Twitter, Instagram and Telegram for more stories like this. If you have a story to share, email us at pressmy@thesmartlocal.com.